AT&T's new LTE devices support T-Mobile's spectrum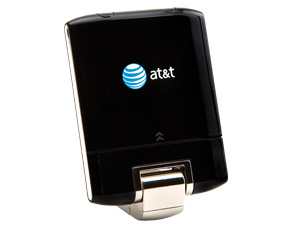 AT&T introduced two LTE devices on Tuesday, while at the same time saying it was on track to roll out the next generation cellular technology in five markets <!article id="1306341467">later this summer. Hidden in the details is the that fact the new devices also support T-Mobile's frequency bands, showing confidence <!article id="1300649912">in the proposed merger.
The AT&T USBConnect Momentum 4G is the carrier's first LTE dongle which will also support access to AT&T's entire national Wi-Fi network. The AT&T Mobile Hotspot Elevate 4G will be an LTE-enabled hotspot allowing for the connection of up to five devices simultaneously with the carrier's cellular network.
Both devices are slated to be available at the time of the LTE network's launch, with the Momentum carrying a price tag of $49.99 after a $50 mail-in rebate and two year contract, and the Elevate $69.99 with a $50 mail-in rebate and contract. With support for T-Mobile's frequency bands, these devices will also not become obsolete post-merger.
AT&T had said earlier that it will use T-Mobile's AWS spectrum to assist in a broader rollout of LTE across the country. While the merger has seen a great deal of pushback -- <!article id="1301341242">especially from Sprint -- the carrier seems quite confident it can get approval and apparently will begin adding T-Mobile's frequency bands into its next generation products.
<!image id=7435 center>
LTE will be available first in the Atlanta, Chicago, Dallas, Houston, and San Antonio markets later this summer, with at least another ten markets to be added by the end of the year. With approval of the T-Mobile merger not likely until well into 2012, it's unlikely that additional spectrum will affect the LTE rollout for at least another year if not more.
Why no phones yet? The answer's probably pretty simple: early adopters are traditionally data users vis a vis phone users. The rollout of data-only devices also puts less stress on the network which in turn will allow AT&T to work the bugs out before a wider rollout to its customer base at large.