COMODO BackUp 4 Beta: The free ride is almost over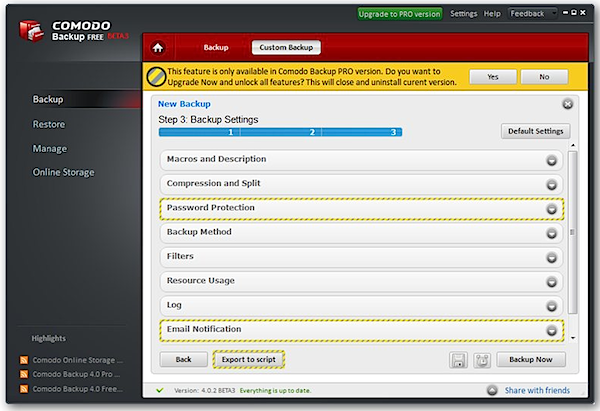 COMODO has made a third beta of the next version of its backup product, COMODO BackUp, available for download. The major change in COMODO BackUp 4 is the switch to a two-tier product, with a function-limited Free version now being joined by a fully functional Pro version, pricing details of which will be made available on the program's final release. At the present time, the Pro beta version functions as a 30-day trial.
This seems to be the major driver for version 4, with other improvements and changes being relatively minor, while the user interface itself remains largely unchanged from the current version 3 release.
Minor changes of note in COMODO BackUp 4 include the default backup type changing to incremental, while differential backups can now also be used as a base for an incremental backup. Version 4 also claims improved performance when backing up files and folders, while there's also an option to run scheduled backup jobs every few minutes as well as hours.
The most visible option removed from the Free version is the simple Backup option, whereby a user simply ticks one of My Computer, Documents, Pictures, Music or Video to quickly back up that folder. There's no instant scan when choosing what to back up, which slows the program's performance when picking folders or files.
Other features reserved for Pro users include password-protecting backup archives, running tasks before and after the backup and being able to back up to a file that's subsequently emailed to the user. Scripting and command-line support, automatic disk image verification, the ability to export backup and restore jobs to script files and email notification of completed backups are also now exclusive to the paid-for version.
COMODO BackUp 4.0 Beta is available now in both Free and Pro versions of PCs running Windows XP or later. Those wishing to enjoy all of functionality at no cost can still download and use COMODO Backup 3.0.