One of 75 new Microsoft stores is coming to a mall near you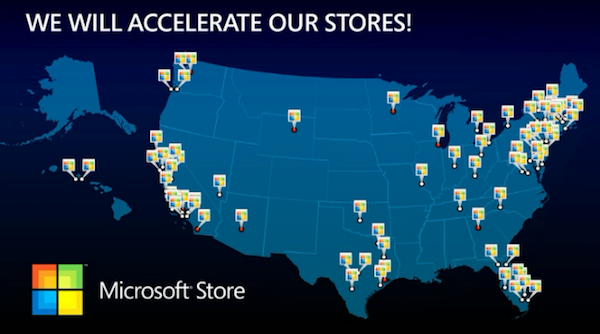 I told you so. In April, citing unnamed sources, Business Insider set the web aflame with rumors that Microsoft would back away from its retail store strategy. I asserted that Microsoft wouldn't and shouldn't. Today during his Worldwide Partners Conference keynote, Microsoft COO said that more stores would be coming. Lots of them.
"We're going to open up to 75 more stores over the next 2 to 3 years and continue to bring our stores outside the US as well", Turner boomed. I hope that's clear enough for all the web's rumor-peddlers.
Microsoft opened the first two stores in Arizona and California in October 2009. There are currently 11 of them. The chart below shows them. The one above shows planned expansion.
Branded Microsoft stores aren't about generating profits. Making money is merely a bonus. The goal should be selling a Microsoft lifestyle and engaging customers. Here in San Diego, Fashion Valley mall has Apple and Microsoft stores, separated by four shops and a walkway. As I observed in December 2010 post "Talking about Microsoft Store," the shops clearly appeal to different people living somewhat contrasting digital lifestyles. Here in San Diego, young, hip or chic defines Apple Store shoppers, while Microsoft Store draws families -- lots of them.
Turner gets it, telling Partner Conference attendees: "We've got a huge opportunity to get the Microsoft story out there". Apple has become hugely successful since opening its first retail store in May 2001, with the stores being a key brand, sales and customer service driver. In late May 2011, Apple made over its stores by placing iPads by each and every product for sale. The iPads provide product information but also get people using the devices, which they might then also buy.
Apple Store also provides valuable direct customer feedback that the company can put back into product development. Even with less than a dozen stores, Microsoft is seeing similar benefits. "It's helping us transition from thinking about our customers to thinking like our customers", Turner said about the stores. He emphasized the value of getting "direct customer feedback from the stores".
<!image id=7450 center>
The future of technology retailing isn't Best Buy or Walmart, it's boutiques. In June 2010, I observed that "Apple and Microsoft stores are the future of technology retailing." Here in San Diego, Fashion Valley mall is a petri dish for assessing tech retail's future. Not just Apple and Microsoft, Sony also operates a company store. All three are in close proximity, and they're all boutiques.
Particularly as computing goes mobile, smaller shops will make more sense because they're familiar to people. Cellular stores operated by AT&T, Sprint, T-Mobile and Verizon are everywhere. Best Buy has downsized with mobile boutiques that also sell computers. The business model has long worked for Radio Shack, which is uniquely positioned to capitalize on the trend.
<!image id=7451 center>
By the way, something I must say about Turner. He missed his calling. Turner's tone, volume and use of language (setting this against that) is like a TV preacher. Praise be Office 2010 and Windows 7. I chuckled when, referring to Internet Explorer 6, Office 2003 and Windows XP he said "those products deserve a standing ovation. God bless them, they've worked for the last 12 or 13 years. We love those products. We absolutely love those products...They've been good to so many people, including the people in this room. But you know what? They're DEAD!"
Speaking about IE9, Office 2010 and Windows 7 Turner said: "We absolutely want to bring the customers to the new world". Now if he'd said "promised land" perhaps some partners would have yelled back: "Ahmen!"