After getting booted from Google+, Anonymous announces its own social network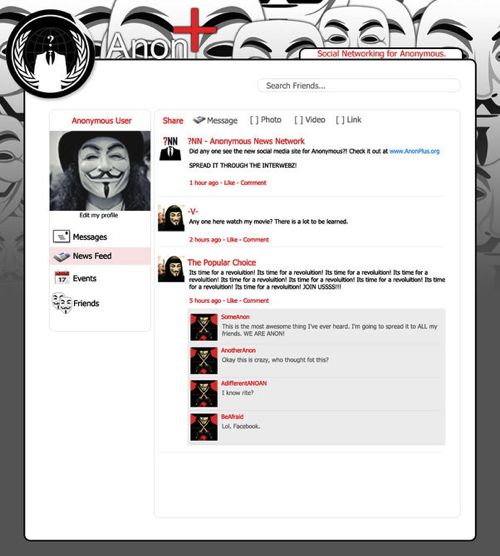 Responding to Google's ban of +YourAnonNews on new social network Google+, "hacktivist" group Anonymous and Presstorm Media began discussing the possibility of a new social network called AnonPlus (or Anon+).
"This project is not overnight and will take many of those out there who simply want a better internet," the site's landing page says. "We will not be stopped by those looking to troll or those willing to stop the spreading of the truth. One thing i would like to point out that this project is for ALL people not just anonymous, this idea is a presstorm idea and only takes the name anon because of the Anonymity of the social network."
Over the weekend, Anonymous and Presstorm put up <!external href="http://anonplus.com">anonplus.com along with the initial announcement that the project's developer teams will be announced soon. The initial Java team consists of 17 developers, and the "Website/Tools" team adds two more. More teams will be announced as the project is fleshed out.
Mockups of the site's design are already being discussed on the <!external href="http://anonplus.presstorm.com/index.php?action=displaycat&catid=1">anonplus discussion forums with a couple of examples showing a clear inspiration from the likes of Google+ and Twitter.