Manage Windows files with Multi Commander 1.10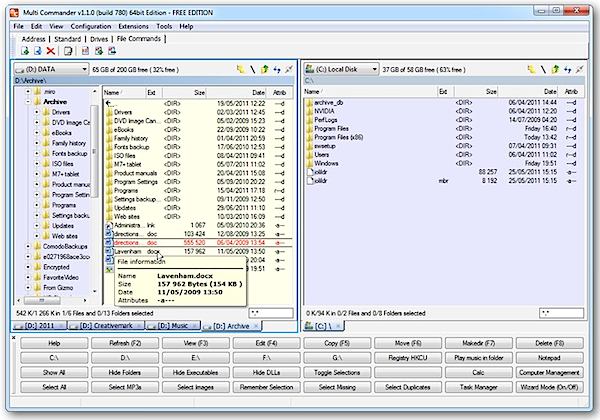 Mathias Svensson has released version 1.10 of his Windows file management tool, Multi Commander. It's a notable release for being the first build to be made publicly available as freeware, and also features a number of notable new tools and improvements.
Multi Commander 1.10 contains over 180 changes according to the author, including a new Folder Tree feature, which adds a folder tree option to each of Multi Commander's two window panes. Also new in version 1.10 is customizable file colors based on the file name as well as a new column listing additional information from IMDB and RottenTomatoes.com for identifiable movies.
Multi Commander is the latest in a long line of file explorer tools designed to get around Windows' limited single-pane view. Instead of having to open a new window each time you wish to browse to a new folder or file, Multi Commander provides two separate windows, each of which can be pointed to a different location to speed up the process of moving and copying files.
Each window also supports multiple tabs, enabling the user to open a number of tabs pointing to favorite locations to make it easy to jump to the most frequently accessed folders on that user's system. In addition to these basic features, Multi Commander boasts an extensive number of tools and plug-ins for aiding the user's management of their files and folders: built-in support for various archive formats (such as 7zip and RAR), FTP access and a built-in Registry viewing and editing tool.
The program also features a large number of buttons, all customizable, giving the user even more control over the file management process with drive shortcuts joined by options for opening specific types of file (such as playing M3U playlists) and accessing the HKEY_CURRENT_USER branch of the Registry all designed to show off how configurable the program is.
Everything's bound up in a functional, if not exactly striking, user interface, and the program will appeal most to power users looking for quick and hassle-free options like tweaking file and folder permissions, creating junctions and symbolic links, and forcibly killing stubborn processes.
Multi Commander 1.10 is available as a freeware download for both 32-bit and 64-bit versions of Windows XP, Server, Vista and 7. While the author has made the program free, he has reserved the right to charge for the program in the future, suggesting it may revert to a paid-for product at some future stage of its development.