Dissatisfied with Facebook? You're not alone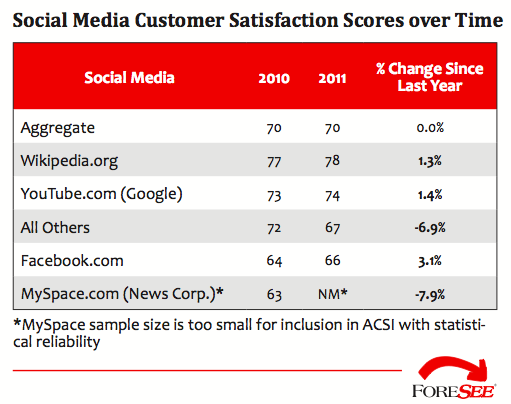 The American Customer Satisfaction Index e-business report is out, and, whoa, do people not really like Facebook.
"Facebook continues to register as one of the lowest-scoring companies measured by the ACSI", from the report. "To put this in perspective, only 14 other sites of the 226 private-sector companies measured by the ACSI have scores that tie or fall below Facebook's, meaning Facebook is in the bottom 6 percent of the whole ACSI".
Facebook received a score of 66 out of 100 points. Among those sites ranking higher: Huffington Post (69); Verizon Wireless (72); Burger King (75); eBay (81); and Lincoln Mercury (86), which ranked tops among the other 225 companies. Among those ranking lower: United Health (65); Continental (64); US Airways (62); Time Warner cable (59); and Pepco Holdings (54), which ranked last.
Earlier this month Facebook revealed that it now has 750 million subscribers -- all this despite its low satisfaction rating. "Does customer satisfaction even matter for Facebook the way it does for retail- oriented websites with direct competition?" the report asks. "Customers have shown that, so far, they have been willing to suffer through a poor user experience in order to enjoy the benefits Facebook provides".
People will hang out at the grungiest bar, with the highest prices, nastiest bartenders and filthiest toilets if that's where their friends go. It's not the place but the people. Offer them a better hangout with friends, and it's bye bye baby.
"Facebook has enjoyed a monopoly of sorts while use of MySpace has continued to plummet", according to the study, "but Google+ plans to make a strong entrance this year and is already conducting widespread beta testing". Because Google+ launched "after the data collection period" it "was not scored".
Facebook should perhaps be concerned about competition: "Google is a company that has traditionally received ACSI scores in the 80s -- it is among the highest-rated companies in terms of customer satisfaction" according to the report. "If Google can carry over their customer-centric ethos to Google+, Facebook could have serious competition that has the potential to very quickly erode its market share".
I'm simply enamored with Google+, as you will find are many other people if you're using the service. The currently invite-only Google+ reached 10 million users in its first 14 days.
By the way, Google+ isn't alone not being measured in the study. Twitter was omitted "because so many Twitter users access the service through other websites or platforms, reducing our ability to get an accurate measure".
ForSee Results compiles the study. Data is collected from "70,000 customers".
The top 10:
1. Lincoln Mercury (89)
2. Buick (88)
3. H.J. Heinz (88)
4. Amazon (87)
5. Unilever (87)
6. Apple (86)
7. BMW (86)
8. Cadillac (86)
9. Clorox (86)
10. Hershey (86)
Something else worth noting here. Google search satisfaction rating dropped from 86 to 80 last year -- its lowest since 2002. Bing rated 77. This year Google climbed to 83, but Bing nearly closed the distance.
"While Google+ is the challenger to Facebook's established dominance in the social media wars, in the search engine wars, Google is king, but Bing is a clear contender. Considering Bing's five-point increase since last year, from 77 to 82, the largest increase of any company in the category, and its achievement of a satisfaction score that is on par with Google's, it is well on its way".
The point: Microsoft has laid an enviable foundation of customer satisfaction that it may capitalize into more market share gains.