RIM begins round of 2,000 employee layoffs in America this week

BlackBerry maker Research in Motion will be cutting nearly 10% of its global workforce as it struggles to keep its piece of the smartphone market against the avalanche of Android-powered devices.
RIM will be laying off a total of 2,000 employees globally, and layoffs will begin in North America this week. The rest of the reductions will happen at an unspecified later date due to "local laws and regulations." The company says all employees who lose their job will receive severance packages and job placement assistance.
The layoffs this week will span across RIM's North American facilities, which include: Waterloo, Ontario; Mississauga, Ontario; Ottawa, Ontario; and Halifax, Nova Scotia in Canada; Alpharetta, Georgia; Bellevue, Washington; Andover, Massachusetts; Irving, Texas; Redwood City, California; Rolling Meadows, Illinois; and Sunrise, Florida in the United States; and Mexico City in Mexico.
In the early days of consumer smartphones, RIM easily established BlackBerry as a go-to brand. It already found success among businesspeople with its emailing and messaging solutions, and between 2006-2009, the company continuously gained market share. But as smartphones began to reach the mainstream consumer, devices that put the web browsing and app shopping experience first have begun to knock down RIM's early leads. By 2010, RIM's user acquisitions had slowed and earnings dropped.
Now, smartphones powered by Google's Android operating system dominate the market and every gain Android makes seems to be coming directly from RIM's share.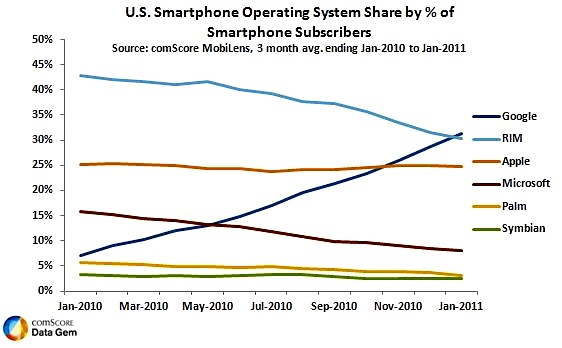 After the layoffs, RIM's total workforce will be 17,000, putting it behind Google, who had 24,400 full-time employees at the beginning of 2011. Apple, by comparison, had 46,600 full-time employees at the end of 2010, and Microsoft had 89,000.
RIM will announce more information about the staff reduction on September 15 when it posts its quarterly earnings.