Tough luck Symantec, McAfee, Trend Micro, IBM, CA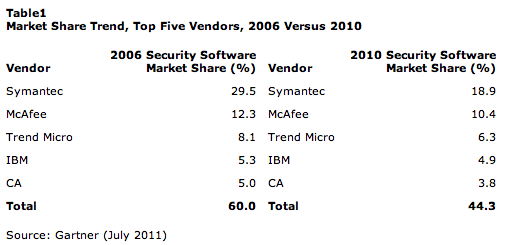 The security software market is undergoing dramatic changes, says, Gartner, which released data for 2010 yesterday. Twenty-ten? Why'd it take so long? Gist: The five companies controlling the market have lost dramatic combined share compared to four years earlier. Get this: Microsoft isn't given as a reason.
I call out Microsoft because its entrance into the security software market seemed sure to sap longstanding vendors, or so some claimed five years ago. The company gives away for free products like Security Essentials, and its choosing to compete with longstanding partners was controversial. But as I explained in December 2006, Microsoft needed then and still needs now to protect Windows users from hackers and bot herders.
The top 5 are losing ground for the simplest of reasons: Competition from newcomers. In 2006, Symantec, McAfee, Trend Micro, IBM and CA accounted for 60 percent of the security software market. Their combined share of the market, valued at $16.5 billion, was 44 percent last year, according to Gartner.
"The information security market is in a continuous state of consolidation, but even fairly intense merger and acquisition (M&A) activity has not stopped the market from being very fragmented", Ruggero Contu, Gartner principal research analyst, says in a statement. "Market expansion and innovation are driven partly as a result of new start-up players entering the market. New players bring innovative technology solutions to cater for end-user requirements that in turn are created as a result of the new threats, often introduced by cybercriminals taking advantage of new vulnerabilities created by changes to IT ecosystems".
So looked at another way then, startups (and Microsoft) account for 56 percent of the software security market.
"The security market continues to provide good growth opportunities for both established players and start-up companies, and the market landscape remains fairly dynamic with many competitors", Contu says. "While end-user organisations have shown an increasing preference to use a suite of products from fewer suppliers, the complexity of end users' product portfolios will not be solved in the short term because new, stand-alone niche tools will continue to be purchased to solve new rising threats and vulnerabilities that incumbent players haven't been able to address".
Who are these other security software vendors? Gartner doesn't say, but, hey, that's what the analyst firm sells expensive, lofty reports for. Surely AVG, F-Secure and Kaspersky are among them.
Let me ask: Is the vendor from which you buy security software different from the one in 2006? Which ones? Please answer in comments.