SMBs get more efficient servers with virtualization

Editor's note: This article was commissioned by Dell. To learn more about Dell's solutions for improving responsiveness while reducing costs with virtualization, please visit Dell's site by clicking here.
As hardware power increased over the years IT pros used to wonder about what we'd do with all that capacity, but no longer. Virtualization has enabled everyone, from SMBs to enterprise IT, to get better utilization out of their hardware and make management easier too.
This feature of virtualization is all the more valuable to SMBs because every server is a big investment. Buying different boxes to perform file and print serving, database processing, email, line of business apps and more will soon get you a group of underutilized boxes requiring excessive maintenance, not to mention pulling a lot of electricity and putting out a lot of heat.
Taking a virtualized approach using Dell servers with Intel Technology makes it all much more efficient. All of the tasks run in virtual machines on any of the servers, as the management systems determine based on efficiency. If there is a hardware failure, the remaining physical servers can take over the load and you can fix what's broken without any significant downtime, and perhaps without any at all. Intel processors are optimized for virtualization. Built-in Intel Virtualization Technology (Intel VT) enhances native virtualization performance by as much as 2.1x.
Virtualization lends itself to more compact and efficient physical server configurations, such as Dell PowerEdge rack and blade server solutions with Intel Technology. These servers conserve space and electricity. Expanding capacity also becomes a much easier task and can be done without taking systems down. The same is true of storage solutions for virtualized environments.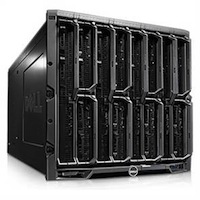 These solutions also incorporate management, disaster recovery and storage provisioning. Virtualized environments bring inherent redundancy and fault tolerance by removing specific hardware dependencies from the software picture. Backup and recovery are both simpler as a result.
Any business concerned with efficiency and especially with managing growth needs to consider the benefits of virtualization of servers. You'll make work a lot easier and more profitable in the future.