Introducing WIMM, the 1 inch Android wrist computer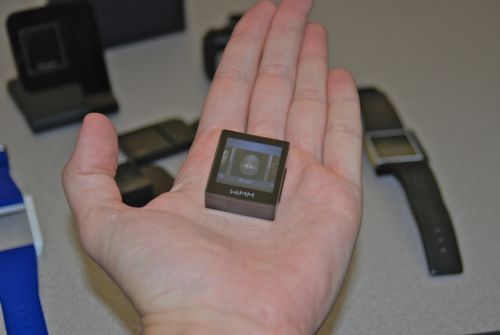 This is the WIMM Wearable Platform (which, for the sake of simplicity, I will be referring to strictly as "WIMM" for the rest of this article.) It's a tiny Android-powered module that will be used someday soon in watches, bike-mount computers, wearable interfaces, and anything else a clever company can come up with. It's the product of WIMM Labs, an <!external href="http://www.wimm.com/about.html">all-star Silicon Valley company that has partnered with iPhone manufacturer Foxconn to usher in the era of the "first screen" and "micro apps."
The idea of the "first screen," WIMM Labs CEO and former Rambus president Dave Mooring told Betanews last week, is a response to all the other four screens that we interact with on a daily basis (TV, PC, smartphone, and now tablet). Technically, this would be the fifth screen, but it is intended to be the first one you look at.
You see, there is a clear relationship between the amount of time spent with a device and its screen size. We spend the most time engaged with a TV, but we typically only use them a couple of times a day. Then, moving down the line comes PCs, then tablets, and finally phones, the device we look at the most, but often for the shortest amount of time. WIMM devices will fit in underneath the smartphone, with lots and lots of sessions per day which may only be a couple of seconds each.
Micro Apps are pretty much just as they sound, and fit into this quick usage category. They are tiny single-purpose apps that will turn WIMM into, for example, a remote control for your camera, or a unique security bracelet, or a contactless payment dongle. Like a smartphone, WIMM can handle many many apps, and because it is designed to be interacted with frequently but for short periods of time, the apps should be appropriately "micro-sized."
<!image id=7673 center>
So what is it?
The modules I got to see were waterproof plastic or ceramic and had contact points for attaching to chargers, docks, bands, etc. The display is a 1" x 1" (160 x 160) touchscreen, and the internal board includes wi-fi, bluetooth 2.1 EDR, GPS, an accelerometer, magnetometer, vibrator, speaker, and up to 32GB of microSD memory.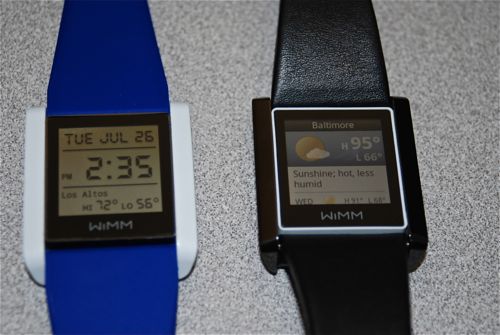 The screen is one of the major cool points for WIMM. It's a transflective TFT (think touchscreen <!article id="1244051752">Pixel Qi) that switches to "passive" reflective mode when apps aren't in use, so it becomes a regular watch with a long battery life. But when you want to run apps with its 667 MHz applications processor, the backlight kicks on, the screen switches to transmissive mode, and it becomes active.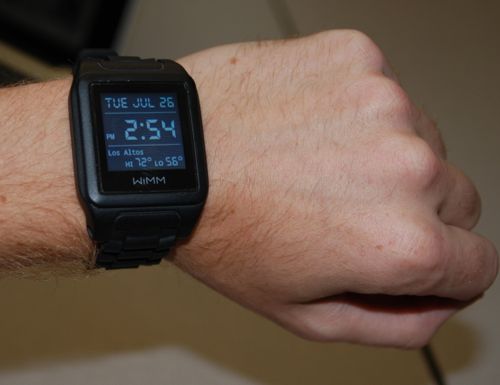 "We didn't want a screen that would go off and go dark like when people put the iPod Nano on their wrist," SVP of product marketing Tim Twerdahl told us. "And we also knew that if we tried to keep the screen alive all the time, we'd have some serious battery issues…so we innovated on 2 fronts, one is the architecture on the board, and the other is the display technology that allows it to have those two modes."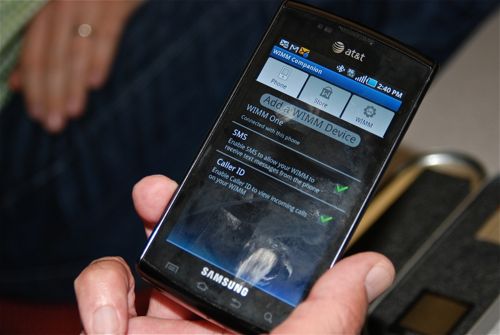 The device pairs with any Bluetooth smartphone, but the ideal companionship is with another Android device. WiMM Companion (shown above) is a conduit for anything you want to pass from the phone to the module…for example, you can pipe down RSS feeds or weather headlines, so when you click on something on WIMM, it launches on your phone.
So how is it different from <!article id="1285686842">Sony Ericsson LiveView, the 1.3" wrist-mounted Android smartphone companion?
You don't necessarily have to link it to your phone.
"What Sony Ericsson did was very much a slave to an Android phone, to such an extent that I read reports that if you didn't have it paired with a phone, you couldn't even get the time on the thing!" Mooring told us. "The nice thing is that you could pair this with a phone via bluetooth, and there's a great product opportunity there…but if you're in the runner's watch category, for example, you don't want to force your users to run with their phone, so for cases like that, [WIMM can be a] standalone, autonomous GPS device that syncs up to your home network when you get back from your run."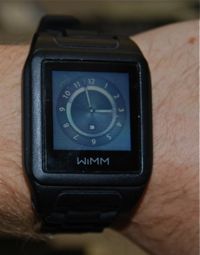 Like the Chumby "app clock", WIMM comes with a full canon of Web-based services for desktop and mobile browsers that help users manage their device. Users will be able to browse and buy apps, send them to their device, and control their settings, calendars, location, and apps from a user dashboard.
Here's why this is awesome...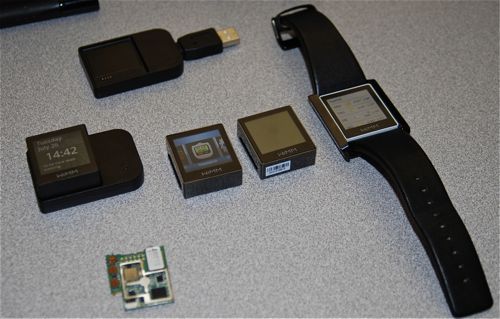 WIMM Labs has white-labeled everything. It has created a standardized micro-sized Android platform, created all the user management and app distribution services, and has partnered with Foxconn to manufacture the finished product. All a brand would have to do is purchase the touchscreen module, or just the guts (an impressively compact board) to embed it into something new. Then when the brand has come up with a way to use it, Foxconn cranks it out, and WIMM labs creates the branded Web interface on its already existent backend.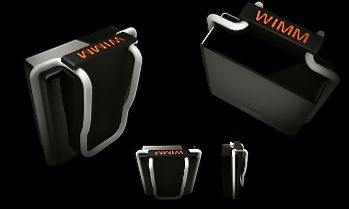 "For brands that have to adopt technology and know they do, but can't afford the R&D to get into the business, we provide the parts that are too costly," Mooring said. "It's sort of a shared R&D model."
<!image id=7680 center>
This means all the many potential uses of WIMM can be created, branded, and brought to market just that much faster. Mooring and Twerdahl showed me dozens of ideas for the platform, and said they're already in talks with watchmakers, fashion companies, and sporting equipment makers to make them real.
<!image id=7681 center>
The WIMM One Developer preview kit and SDK will be available in the third quarter of this year, and devices built on the WIMM platform could be as cheap as $199 or as expensive as the WIMM licensee chooses.