Network Stuff: More Internet tools than you'll likely ever use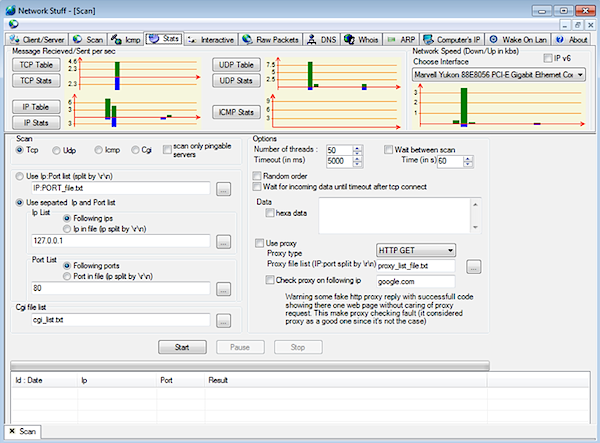 Network management can be a complex business, often requiring a whole suite of tools to carry out properly. Or you could just download a copy of the free, open-source Network Stuff, which crams much of what you'll need into a 1.3MB portable executable.
There are graphical Ping and Traceroute tools, for instance. You're able to run TCP, UDP, ICMP or CGI scans on the IP address and ports you specify. And a Stats tab displays everything from the currently open network and Internet connections, to assorted TCP, IP, UDP and ICMP statistics, and a real-time graph charting the current activity on whatever network interface you specify.
Maybe, after using this, you'll discover a suspect connection to a remote IP address that  you don't recognize. Who does it belong to? The built-in DNS resolution and Whois tools will tell you more.
A handy Computer's IP tab displays your PC's local IP address, and its address on the Internet (if appropriate). The ARP tab will return the MAC address for the IP address you specify.
And the list goes on, with Network Stuff able to capture and forge raw packets, carry out TCP and UDP telnet, fire up network PCs via its Wake On LAN function, and more.
There's plenty of power here, then -- but you'll have to find the function you need, first. And that's not always easy, because there are no menus or toolbars here to offer shortcuts; instead you have to drill down through tabs and buttons to uncover the appropriate feature.
This isn't too big a problem, though. You may not immediately realize that clicking Stats > TCP Table will display your currently open network and internet connections, for instance, but once you know where the function is hidden then it's no longer an issue.
And so if you regularly have to tweak or monitor Windows networks then Network Stuff almost certainly merits a place in your portable troubleshooting toolkit: the initial learning curve is steeper than it should be, but there's more than enough useful free functionality here to make it worth the effort.