Sony, Panasonic, Samsung team up to standardize active shutter 3D glasses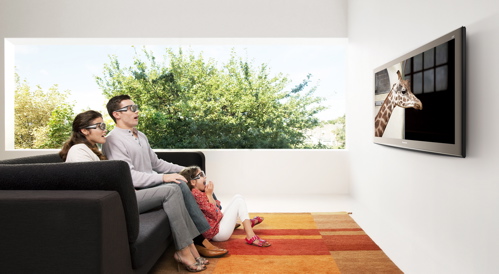 Consumer electronics companies Panasonic, Samsung, Sony and XPAND 3D (X6D Ltd.) announced on Monday that they have begun collaboration on a new standard for active shutter 3D glasses called the "Full HD 3D Glasses Initiative."
Even though electronics companies are pushing 3D as the next great frontier for cinematic, home theater, and video game-based entertainment, it's been pretty much a flop all around.
Earlier this year, beloved film critic Roger Ebert said 3D <!external href="http://blogs.suntimes.com/ebert/2011/01/post_4.html">doesn't work in movies and never will, and Panasonic's marketing director Andrew Denham said <!external href="http://www.wired.co.uk/news/archive/2011-07/11/3dtv-sales-hollywood">these poor quality 3D movies are causing poor sales of 3DTVs. Nintendo's first 3D handheld console, the 3DS, was cut down in price by more than 33% only six months into its availability. Nintendo president Satoru Iwata said the "drastic step" was taken to ensure more users would buy the handheld.
Of course, each of these platforms uses different 3D display technology: Generally, the theater experience incorporates passive 3D, the home experience uses active shutter 3D, and the handheld experience (3DS, smartphones: HTC EVO 3D, LG Optimus 3D) uses "glassesless" display techniques. And between these three groups, there are different technologies used among them.
Panasonic, Samsung, Sony, and X6D are looking to change that for the home theater displays, which would ultimately result in a more predictable and affordable 3D experience. The four companies aim to create a "universal" standard for active 3D glasses that utilizes radio frequency (RF) connectivity as well as Infrared and Bluetooth, ensuring widest compatibility between glasses, displays, projectors, and media players.
Six months ago, the Consumer Electronics Association began working on its own compatibility standard for Active 3D glasses, but that one <!external href="http://www.ce.org/Press/CurrentNews/press_release_detail.asp?id=12067">dealt only with shutter synchronization via Infrared connections.
"We are delighted to contribute our efforts and technologies to the Full HD 3D Glasses Initiative for both RF and IR technology that we announced today with Panasonic, Samsung and Sony. This initiative reinforces the consumer electronics industry's commitment to highest 3D quality and provides technology consumers and theater-goers with a simple but powerful solution to the challenge of interoperability," said Maria Costeira, XPAND 3D's CEO.
The group says it will begin licensing and producing glasses based on the standard in September.