Text Editor Everywhere does what its name says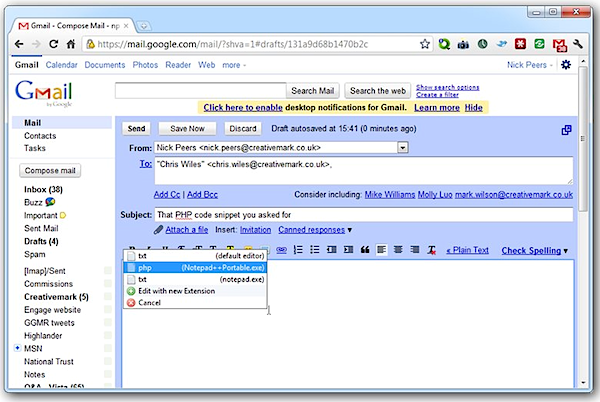 If you've ever found yourself in a position whereby you're expected to enter some kind of text, including snippets of code, into an application or web form that you struggle to get to grips with, then Text Editor Everywhere could be a lifesaver.
This handy free tool allows you to compose your required text in another application -- say, your favorite text or code editor -before automatically transferring it into the other application or web form once you're done. The end result is that you get to work in an environment you feel comfortable while maybe gaining access to features not available in the original application or window, such as spell checking or syntax highlighting.
Once installed, Text Editor Everywhere lurks in your Taskbar's Notification area, ready and waiting to leap into action. As soon as you find yourself about to enter text in an unfriendly application or web form, press [Win] + [A] and you'll see a small pop-up box appear offering to let you edit your text in your default text editor.
Select this and Text Editor Anywhere will copy any existing text in the application or web form you're about to leave and paste it into your text editor, ready for you to edit or add to. Once done, save the document and either close the application or press [Alt] + [Tab] to jump back to the original app or your browser and you'll see your text is ready and waiting. Simple, fast, effective.
As with all good tools of this ilk, Text Editor Anywhere can be fine-tuned to your exact needs via its Notification area icon. Want to use a different editor to the default one in Windows (typically the underwhelming Notepad app)? Want to open different apps depending on the type of data you're inputting -- for example, EditPad Lite for general text and Notepad++ for editing code?
Perhaps you don't like the [Win] + [A] keyboard combo and wish to pick another, or you want to tweak how Text Editor Everywhere behaves with text already entered -- select "Use the editor to edit only selected text" to either let you simply add to the text that's already there without it distracting you or to edit a specific portion of text instead of all of it.
It all adds up to a user-friendly app that fills a gap you might never have known existed until it was put in front of you. The only drawback is that it'll only work with plain text -- try to link it in to your word processor for example, and you'll quickly become unstuck with all the hidden formatting found in proprietary formats like DOC and RTF.
Text Editor Everywhere is a freeware download for PCs running Windows 2000 or later.