Can Vizio snatch the Android tablet biz like it did with LCD TVs?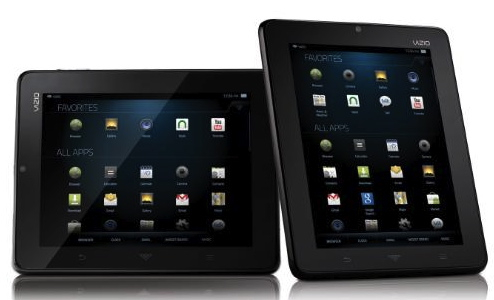 Four years ago, California-based electronics company Vizio rocketed from virtual anonymity to the position of <!article id="1187632284">number one LCD TV maker in the United States ahead of much larger international rivals Samsung, Phillips, Sharp, and Sony. Now, Vizio is hoping to have that same impact in the field of Android tablets with the new 8" Vizio Tablet, officially launched to all retail channels late Monday evening.
Vizio's breakthrough success in the LCD TV market was largely thanks to the affordability and widespread availability of its products through partnerships with big box retailers Costco and Sam's Club. Naturally, this formula will be applied to the Vizio Tablet too, and customers will be able to pick one up at Costco Wholesale, Sam's Club, Walmart, Target, BJ's Wholesale, and Amazon.com for just $299.
With an 8" (1024 x 768) screen, 1GHz processor, 4GB of built-in storage and a microSD slot for cards up to 32GB, 802.11n, Bluetooth, and a front-facing 1.3MP chat camera, the Vizio 8" Tablet packs in many of the features of other Android tablets. But since Vizio is mostly a home theater component company, the tablet has a handful of special features to tie it into the home entertainment setup, including an IR blaster and universal remote app, a microHDMI 1.4 jack with HDCP encryption support and SRS TruMedia audio to play back HD video content, and the Vizio V.I.A Plus UI on top of Android, an interface which will be used in future Vizio TVs and media players.
"Vizio set out to build an innovative tablet that breaks new ground and addresses the gaps in current offerings in the market," said Matt McRae, Vizio's Chief Technology Officer in a statement on Monday.
Because one of the most common places for a consumer to use a mobile tablet is <!external href="http://blog.nielsen.com/nielsenwire/?p=27702">in front of the television, Vizio's brand name, and the inclusion of TV control features into an Android tablet could both prove very helpful in getting consumer interest.