Facebook Messages threads now include texts thanks to new Facebook Messenger app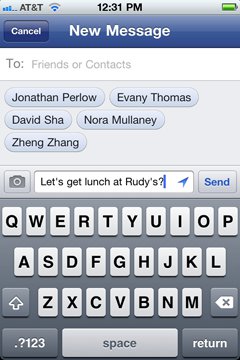 Social network Facebook on Tuesday released a new app for iOS and Android mobile devices called Facebook Messenger. The application is effectively a standalone mobile version of the new Facebook Messages platform which allows users to send messages to individuals or groups of individuals in their phone book or Facebook friends list.
Facebook <!article id="1289847427">unveiled Messages in late 2010, billing it as a single, unified inbox that could thread together many disparate methods of communication into a single stream. If two users are conversing over Facebook chat, and one switches over to a mobile device, for example, the conversation would still take place through Messages, except the messages are being sent through SMS instead of a Web interface.
This mobile app is part of this unification strategy, and once a user begins to communicate with it, his SMS messages get woven into his Facebook conversations which already include Facebook chats, messages, and emails. Users are also immediately able to view the full history of their Facebook conversations.
The major complaint from users today, across both iOS and Android, is that the functionality is great, but should just be rolled into the existent Facebook app instead of broken off into its own.