Finally, Apple provides OS X Lion recovery tool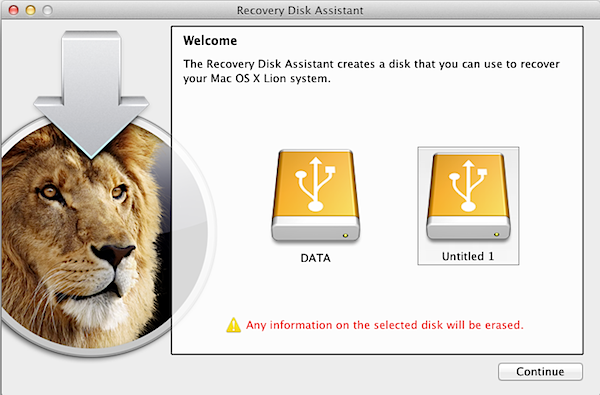 Apple has released Lion Recovery Disk Assistant for beleaguered OS X Lion users, allowing them to start the Lion recovery process directly from a USB drive. Previously anyone who'd purchased the Lion upgrade through the Mac App Store would be forced to reinstall and update Snow Leopard before they could reinstall Lion if disaster struck, forcing them to replace the hard disk.
The Lion Recovery Disk Assistant requires an external USB hard drive or USB thumb drive with at least 1GB free space. It will partition the entire drive, so follow the guidelines at this Apple KB article for details of partitioning the drive so the rest of its capacity can continue to be used for general data storage if required.
The assistant is simple to use: once downloaded, open the DMG image and double-click the file inside to launch the tool. With your USB disk plugged in, select it (or the specific partition you created) and click "Continue". Enter your user password and the utility will do the rest.
Once completed, you can test your disk immediately: restart your Mac with the drive plugged in, holding down the [Option] key. When prompted, select "Recovery HD" to go to the recovery screen, complete with the same options you'll get from the hidden partition on your hard drive.
Although designed specifically for those upgrading to Lion, the recovery disk utility can be used by those who purchased a new Mac with Lion pre-installed. These Macs have recovery procedures built-in that don't require the presence of the original hard disk to run, but can be hobbled by a rare set of circumstances whereby the new hard drive has already been partitioned in a format not recognized by OS X.
Note the recovery disk created does not contain all of the Lion installer files -- these are automatically downloaded from the Internet when the "Reinstall Mac OS X" option is selected.
Lion Recovery Disk Assistant is a free download for all Macs running OS X Lion.