Crimey, I can watch Netflix on Chromebook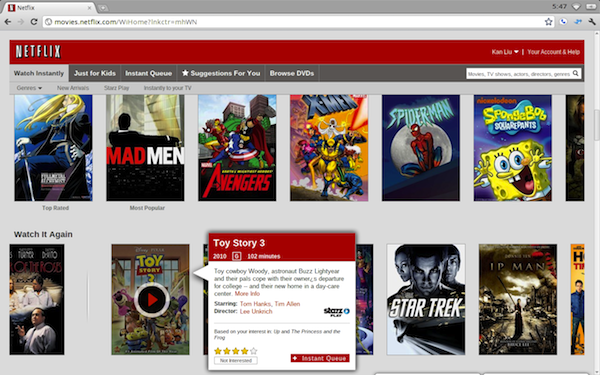 Damn, video streaming looks good, too, and there are no dropped frames. To critics who have never used Chromebook, I say: Underpowered my arse. This is the first computer I've used that just keeps getting better.
First, I must apologize. Google's PR agency reached out to me late yesterday afternoon about a new update to Chrome OS. I wondered if it was the same update I downloaded last week, asked, and after an exchange of emails assumed that it was. Wrong! Chrome OS prompted for the new update today -- so that's two delivered in less than 7 days. Outstanding!
I switched to using the Samsung Series 5 Chromebook full time on July 31 and haven't looked back. I ditched the 11.6-inch MacBook Air for the cloud-connected laptop, which I am loving to use. Battery life is outstanding, easily enough to push through a work day -- and I clock some long hours, too. I'm planning to soon post a second-impressions review, which largely will be favorable, particularly after the two updates. Current build is 13.0.782.213, from the release channel, but I'm strongly considering entering the beta channel.
Last week's update -- 13.0.782.108 -- includes most of the features Google promoted yesterday in blog post: "The computer that keeps getting better". I don't mean to steal Google's line, but that's my experience. Chrome OS development is closely aligned with the Chrome browser, which is on a fast-track cycle. Google has released four browsers this year -- Chrome 13 stable build on August 2, and Google started updating Chrome OS two days later.
I saw dramatic performance and stability improvements after installing the .108 update on August 5. I also noted new cloud print and VPN capabilities. Web pages load faster and occasional tab crashes all but stopped. More significantly, AIM Express and other resource-intensive apps operate more smoothly. I had noticed some breakup of music streamed using the MOG web app when switching tabs. That bad behavior disappeared with last week's update.
"Users may notice their Chromebooks now resume even more quickly -- 32 percent faster in most cases", Alberto Martin, Google technical program manager, blogs. I wouldn't have believed it, if not for seeing. The Series 5 boots or resumes so fast, I couldn't imagine perceiving the difference. But it's noticeable. By the way, one of the reasons I don't mind occasional tab crashes or need to reboot (which I did twice before last week's update) is the speed of restarting and Chrome OS returning all tabs to previous state.
"If you need to print, you can give trees a break and use the Print to Docs feature with Google Cloud Print instead", Martin writes. He also touts the Netflix feature, which my mom, who is getting a Chromebook, will love; I delayed shipping it until this week because of a family emergency back East. She can't stream Netflix on her aging -- and failing -- iMac because it has a G5 processor.
"For businesses and schools, we also have a host of new features launching this week" Martin writes. "If you use Citrix in your organization, you can now install the Citrix Receiver Tech Preview app from the Chrome Web Store to access desktop software such as Adobe® Photoshop directly from your Chromebook. In addition, this latest release brings VPN and secure Wi-Fi support (802.1X)".
It's refreshing to get new features and see performance improvements on a regular basis rather than waiting for major updates for Mac OS X and Windows. My Chromebook is better today than it was last week, I can't complain about that.