Google+ gets social gaming: prepare a circle for obnoxious game requests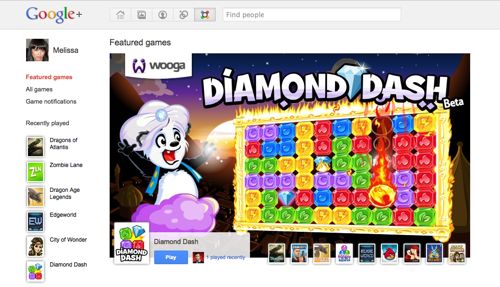 Google's new social network took a lot of the good stuff from Facebook, Twitter, and Google Wave and mashed it all together to make Google Plus. Today, social games, one of the more lucrative, but possibly more obnoxious facets of Facebook has launched on Google Plus.
With the Circles feature of Google+, the constant stream of game-related feed updates and promotions that has been known to pollute Facebook can at least be corralled into its own little area. Google is hailing this as a major improvement to the social gaming experience.
"Games in Google+ are there when you want them and gone when you don't," Google's Senior Vice President of Engineering Vic Gundotra said today. "When you're ready to play, the Games page is waiting--click the games button at the top of your stream. You can see the latest game updates from your circles, browse the invites you've received and check out games that people you know have played recently. The Games page is also where your game accomplishments will appear. So you can comfortably share your latest high score--your circles will only see the updates when they're interested in playing games too."
The first round of games for Google+ has a little more than a dozen titles available, which include the huge hits Angry Birds and Bejeweled Blitz and Zynga Poker…but no FarmVille, CityVille, FrontierVille, or any of the other games that have garnered a lot of love and <!external href="http://www.facebook.com/pages/I-Hate-Farmville/131390668240">a lot of ire from the public.
But that isn't to say it won't be arriving. Google today also unveiled the <!external href="http://googleplusplatform.blogspot.com/2011/08/stepping-onto-google-platform.html">Google+ Platform blog for developers looking to bring their games to Google plus when the API is widely available. It is available now, but only to a select few developers, and if you're interested in making a game for Google+, you have to <!external href="https://services.google.com/fb/forms/plusdevelopers/">personally request the API.
User access to the games is also limited so far, but it will be rolling out to everyone in a staggered fashion.