Why wait until tomorrow, when you can download Firefox 6 today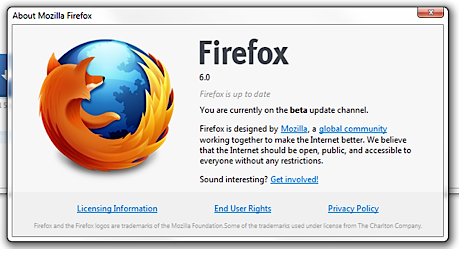 Although not due to be officially released until tomorrow, Mozilla has placed Firefox 6 Final on to its download servers. The latest version of Mozilla's open-source browser -- the third major release in five months -- sports a brand new Permissions Manager, which allows users to set privacy controls on a site-per-site basis.
Developers can make use of a new scratchpad window for testing Javascript snippets, while domain names are highlighted in the Address bar to aid identification of websites. Other changes are mostly beneath the hood, designed to improve compatibility, performance and security.
Firefox 6, which will be officially unveiled tomorrow, currently launches to a window telling you that you're running a beta version. Once the app is officially launched this should subsequently point to a new page introducing you to the latest version.
Its most notable new feature is the new Permissions Manager. This is accessible by typing about:permissions into the Address Bar, and allows you to set up customised privacy settings for individual websites. These cover passwords, cookies, pop-up windows, offline storage and shared location settings. A global setting for all non-configured sites is also available, making it possible to set up highly restricted settings for unknown websites to improve privacy and security.
Other visible changes include a subtle change to the way URLs are displayed in the Address Bar, with the main domain highlighted to make it more obvious which site you're on, allowing users to confirm the identity of sites visited through clicking links. Developers will find the new Javascript Scratchpad window accessible by clicking the Firefox button or opening the Tools menu (Mac) and choosing Web Developer > Scratchpad.
Most of the improvements in Firefox 6 are behind-the-scenes, with performance improvements of up to 20 per cent over Firefox 5 being debated. Add-on compatibility is now tested automatically by a plug-in checker, while WebSockets are now supported and HTML compatibility is extended further.
With the move of version 6 to the release channel, expect Firefox 7 to switch from Aurora to Beta, with Firefox 8 taking its place in the Aurora channel shortly. Firefox 7 will finally take steps to address the memory leak problem that has plagued Firefox, while version 8 should see major changes to the way add-ons are installed and updated, with silent installs blocked and users having to manually select which add-ons are retained from previous versions.
Firefox 6 Final is available as a free, open-source download for Windows, Mac and Linux.