Finally, Firefox for Android is stable and primed for tablets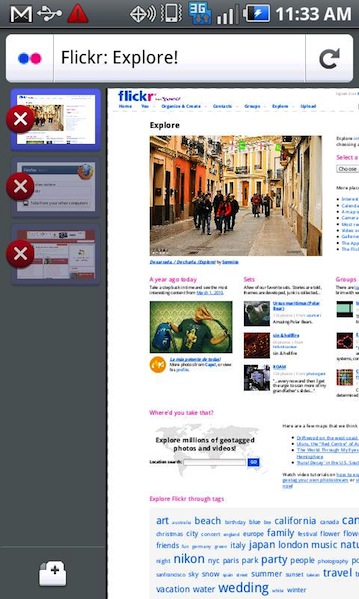 Along with Firefox 6 for PCs, today, Mozilla also released the mobile version, which I must say looks damn good. But it feels even better. There's a solidness about the browser that makes it ready, finally, for prime time. Firefox fans, this is the one you've been waiting for.
I tested Firefox 6 for Android, quite unexpectedly, on the Samsung Galaxy Tab 10.1. I had planned to use the Nexus S but let the battery run down. Good thing, too, because I might have waited days to try the tablet experience -- and, whoa, is it good. So let me preface that the screenshots here are stock ones from the Android Market and they show the browser on a smartphone. The browser looks much better on the Tab. That's right, Mozilla optimized this release for tablets.
My overall first impressions are positive. I can't say the same about previous versions, which I found to be buggier and crash prone (after my phone charged I tried the browser there to make sure the better experience is same on both size devices -- it is). Firefox 6 for Android offers a fresh start experience, where users can set up sync and customize the browser (including add-ons). Sync isn't new with this release, and it has been one of the browser's past stellar benefits. The feature syncs bookmarks, history, passwords, etc. to the cloud so that they're the same whether on PC or mobile.
Mozilla makes it drop-dead easy to get add-ons, whether Android phone or tablet. Amazon, Google, Twitter and Wikipedia are there by default. There's a huge and useful selection of add-ons to choose from. I prefer the scroll-down list on the phone compared to the off-center panel on the tablet. Support Betanews and don't install Adblock Plus, but everything else is fair game. :)
Firefox 6 for Android is true to its geek roots, the aforementioned choice of add-ons and customization features being part of it. Another: The Start page shows tabs opened from previous browsing session, tabs synced from another computer and a list of "add-ons for your Firefox".
<!image id=7821 center>
What matters most to me is stability and usability, and this is the first mobile Firefox version that delivers enough of both. Version 6 washes away the bad taste lingering five releases back to the first for Maemo (which I used on the Nokia N900). There's lots more under the hood here, but it's late day and I really must post.
Firefox isn't available for iPad or iPhone (you can ask Apple why not). The best Mozilla is permitted: Firefox Home, for syncing bookmarks and other stuff. But it's a Safari world over there on iOS (just ask Opera, which must offer mobile browsing by proxy server).
Mozilla is making a big deal out of new developer tools:
With the single touch events API, developers can build Web experiences that detect touch events and gestures. Imagine mobile Web apps that enable users to swipe their finger to pan around a map and mobile Web games that let you swipe a finger to swing a baseball bat or pull a slingshot to launch an angry bird. Support for multi-touch events will be added in future releases.

The IndexedDB API gives developers local database storage in Firefox to make Web apps, websites and restartless add-ons available offline. This increases performance, reduces data usage and allows users to enjoy a mobile Web experience without an Internet connection.
Like Google, Mozilla is providing tools that let developers provide off-line access to apps, which is crucial in the battle between browsers and mobile apps.