Thunderbird 6 arrives, but was it too fast?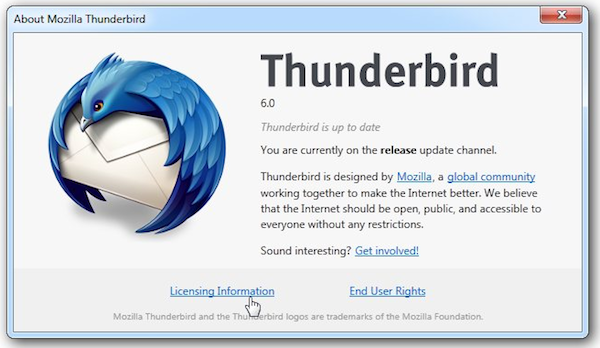 Mozilla has placed the final release of Thunderbird 6 on its download servers to coincide with the earlier release of Firefox 6. Changes are few and far between in this latest build, with the only noteworthy feature being support for Jump Lists in Windows 7.
Thunderbird 6's release reflects the email program's switch to the same rapid development cycle as its sister product, Firefox. With so few changes being implemented, it's tempting to think the move doesn't make much sense except from the point of view of keeping the version numbers of both products the same.
Support for Jump Lists means that Windows 7 users can now right-click the program's Taskbar icon to quickly compose a new message or open Thunderbird's Address Book. Other changes are largely bug fixes -- there are several of these implemented to correct problems when importing email from Microsoft Outlook, while Linux users should now find the default mail check works correctly.
Other than this, the only changes specified are bug fixes. Thunderbird 6 is a free, open-source download for Windows, Mac and Linux. Expect to see Thunderbird 7 appear on the beta channel shortly, followed by Thunderbird 8 on the Aurora channel.