Think eBay is the top retail or auction site? You'd be wrong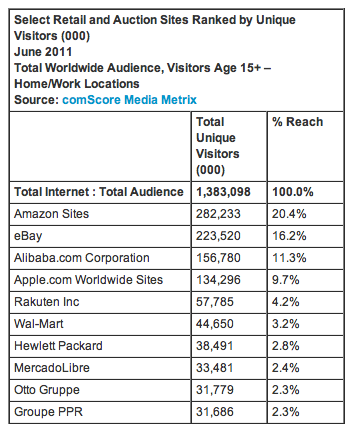 I would have picked eBay. But according to ComScore, Amazon is leader, with 20.4 percent global Internet population reach in June -- 16.2 percent for eBay. The analyst group lumps together auctions and retail, so looked at that way it's not surprising. What perhaps is unexpected -- Apple ranks fourth -- 9.7 percent share, with 135 million unique visitors.
Auction sites had 1.39 billion unique visitors, 282 million of them to Amazon and 223.5 million from eBay.
"While retail e-commerce has already grown to become a $150+ billion annual industry in the US, it still presents enormous upside opportunity across much of the globe", Gian Fulgoni, comScore co-founder, says in a statement. "Technology has changed the way consumers behave, and increasingly they are opting for the convenience and pricing advantages offered by the online channel. Several global retail brands have already capitalized on this global consumer trend, and many other retailers are sure to pursue their share of the pie".
Part of that pricing advantage is, at least in the United States, no sales tax for operations like Amazon. The online retailer largely skirts collecting sales tax because of federal law -- no physical, local establishment when selling across interstate lines means no sales tax collection required. By contrast, Apple charges sales tax in most states, because it operates retail stores in them. Another Amazon advantage: Customers choosing the $79/year Prime service get free two-day shipping or $3.99/item overnight shipping; in some geographies.
Speaking of geographies, the data there is interesting. The United States doesn't lead among all retailers, as some people might assume. For example, eBay is a booming success in Europe, where its reach -- as measured in unique visitors -- is 46.9 percent.
Still, the United States commands large online retail reach from small base, just 14.9 percent of the total Internet retail and auction audience. Asia-Pacific: 41.1 percent.
<!image id=7835 center>
Along the Pacific Rim, China's Alibaba (#3 globally) and Japan's Rakuten (#5 globally) gained most of their reach from Asia-Pacific -- 85.7 percent and 72.7 percent, respectively. Juxtaposition: Walmart's reach is mostly confined to the United States (83.4 percent).