Apple does it again? Doctors Samsung images in court filing?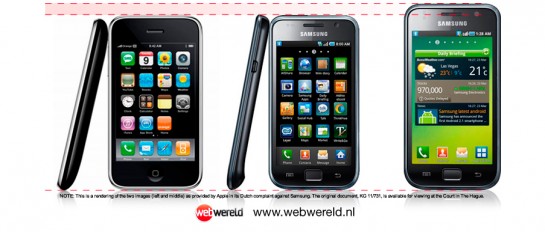 Apple may have just found itself in hot water again after a dutch technology news site spotted doctored images within a filing in Netherlands court surrounding Samsung's Galaxy S smartphones. The Cupertino company is accusing Samsung of copying the iPhone's design in its line of smartphones, and is seeking an injunction.
Webwereld.nl found that Apple had allegedly doctored the image of a Galaxy S smartphone by compressing it to make it the same height as the iPhone 3G, which Apple claims Samsung lifted the Galaxy S design from. By doing so, it also made the phone wider, which would further exaggerate the similarities.
Just a few days ago, another case of image doctoring involving Apple <!article id="1313434820">was circling the web. There, Apple had apparently stretched out the width of the Tab in order to make it appear more like the iPad 2. Why would Apple be pushing its luck yet again?
Samsung's legal counsel has already complained to the Dutch courts about Apple's apparent image manipulation, but failed to produce any evidence of it. It now appears from the work of the tech media that the Korean manufacturer may have some anecdotal evidence that their fears are indeed true.
Curiously enough, Apple does disclose in the filings that the Galaxy S has "slightly larger dimensions." However, for whatever reason it has decided not to show that in the graphical evidence. Could be that Apple is not confident in showing the Galaxy S in its true dimensions, that doing so could seriously hurt its case?