Where did Windows XP codename 'Whistler' come from?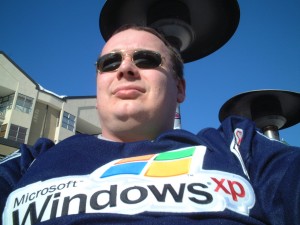 Fifth in a series. We continue our series about Windows XP's release to manufacturing 10th anniversary with a quick look at codenames for this product and others around it.
This picture is me, sitting in the terrace of the Long-Horn Saloon in Whistler, British Columbia. The photo is also the Windows roadmap. On the right side of the terrace, the slopes are coming down from Whistler Mountain (Whistler = codename for Windows XP).
If you want to cross over to Blackcomb mountain (Blackcomb = early codename for successor of Windows Vista (now Windows 7), you have to pass Longhorn Saloon (Longhorn = codename for Windows Vista).
It was a perfect time there attending the Whistler (Windows XP) technical airlift.
Editor: Whistler, BC, is a popular mountain resort, where Microsoft has held many technical, design and other retreats. While Apple chose cat names for its operating systems (e.g, Leopard and Lion), Microsoft chose breathtaking views, which is reflected in Windows Vista's final product name.
Whistler, Blackcomb and the other mountains are known for skiing and other winter sports that may have inspired other Windows code names: Freestyle (Windows XP Media Center Edition) and Springboard (Windows XP Service Pack 2 security enhancements), for example.