FCC hurricane update: 12k lost wireline, 5k lost cable, up to 345 cell sites down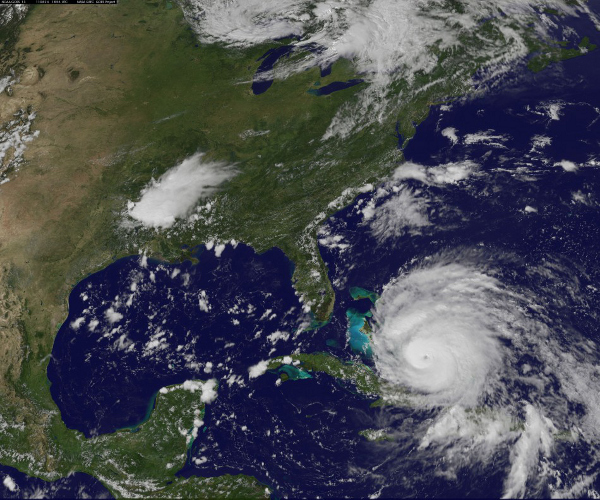 FCC Chairman Julius Genachowski and FCC Public Safety and Homeland Security Bureau Chief Jamie Barnett gave a brief press conference on Saturday afternoon to give a snapshot of Hurricane Irene's effect on communications networks in the Atlantic coastal area. All data presented here was collected from the FCC's Disaster Information Reporting System (DIRS).
Wireline: 12,000 are out of service, 8,000 in NC, 4,000 in VA.
Public Safety: no public safety centers are out at present, but under heavy congestion.
Switches: 3 small wireline switches are down in South Carolina, No wireless switches down.
Cell sites: 130 cell sites, mostly in coastal NC are down. 215 cell sites are on backup power, which might also go down if not reprovisioned soon.
Cable: 5,000 cable TV subscribers are out of service in North Carolina now.
Carterete has been the hardest hit county in North Carolina with half of its cell sites out of commission. Onslow and Green County were also among the hardest hit in terms of communication breakdowns in the region.
FCC Public Safety and Homeland Security Bureau Chief Admiral Jamie Barnett says carriers have what are colloquially known as "COWS", and "COLTS," (essentially SUVs with portable cell sites) to roll into areas with major outages to provide temporary relief for emergency connectivity issues.
"Working in close collaboration with FEMA, the FCC has deployed four Roll Call units to survey police, fire and emergency medical communications systems as well as television and radio stations along the entire eastern coastline," FCC Chairman Julius Genachowski said. "These Roll Call units will help first responders and carrier repair teams with fast information about what wireless communications are up or down in their area. As the storm progresses, these Roll Call units will analyze the areas hardest hit and immediately be able to communicate important data to FEMA about system damage in an effort to restore service as quickly as possible."