Facebook 3.5 for iOS adds privacy controls but no dedicated iPad app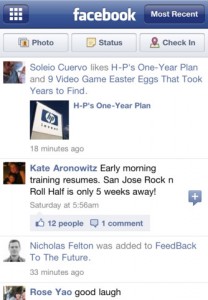 The good news: Facebook 3.5 for iOS is available, packing some new privacy controls. The bad news: There's still no dedicated iPad app. For now we'll have to content ourselves with a less major updates. The v3.5 app reflects some of the privacy changes that have been made to the Facebook website, as well as bringing in tagging and location options.
New privacy settings are in place that can be configured to control who will be able to see and comment on the posts you make. You can choose to make posts public, limit them to your friends list or a particular group you have already set up. The settings you choose for a particular post remain in place until you change them for a future post, so be sure to check before making more status updates.
It is now also possible to tag people in photos and posts, while the location option means that you can broadcast your current location with your status update, although you do have the option of choosing to check into somewhere completely different.
If you find that clicking a link in a friend's status takes you to an external website, it is now possible to share links you find interesting whilst in web view. Other minor updates include changes to the appearance of profiles and group walls and there is the usual quota of bug fixes and performance improvements.
You can find out more and download a copy of the app by paying a visit to the Facebook for iPhone review page.