Identify TV shows with your iPhone camera and VideoSurf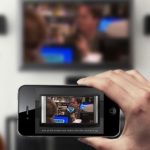 Deep video search company VideoSurf on Thursday launched its mobile application for iOS which lets users point their iPhone, iPod touch, or iPad camera at a TV screen and the app can identify what show is currently being displayed.
Something like Google Goggles and Shazam combined, the app can identify shows, episodes and actors as they appear on the screen to give viewers more information more immediately.
The app was first shown off at CES 2011 in January, and was officially released to the public on the Android platform earlier this summer. The application gained some further recognition just a couple of weeks ago by being a pack-in app on the Droid Bionic on Verizon Wireless.
Now the company is hoping to make its biggest splash on the iOS platform.
"This is an exciting time, and we're thrilled to be at the forefront of video discovery and bringing this new technology to the iPhone," said VideoSurf CEO and Co-Founder Lior Delgo today.
VideoSurf is available for free in both the Android Market and iTunes App Store today.