HTC Rhyme makes a fashion statement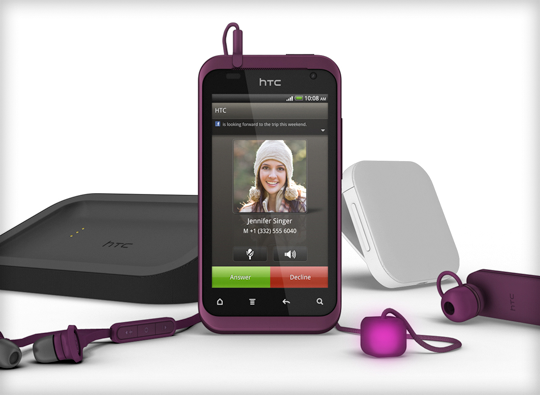 The true measure of any carry-around product category's mass-market success is when manufacturers put form before function -- when it becomes jewelry or other accoutrement. There's little other way to look at the new HTC Rhyme smartphone introduced today and going on sale September 29 from Verizon Wireless here in the United States.
From the Clearwater, Hourglass and Plum colors to the accessories -- my God, there's a light-emitting "Charm" to dangle from handbags -- Rhyme is as much about fashion as function. The fashion phone, with 3.7-inch display, 5-megapixel camera and running Android 2.3.4, will sell for $199. Form clearly exceeds function, as some specs are underwhelming for smartphones in the same price range -- for example, the 1GHz single-core Snapdragon processor, 4GB storage and 768 MB RAM.
"Rhyme represents an entirely new approach, based on recognition that there is a substantial group of consumers who want their phones to be more personal and complimentary to every moment of their day", Scott Croyle, HTC's vice president of design, says in a statement.
Actually there's nothing new at all in the approach. That's pure marketing BS. Functional products have a long history of being accessories. Take the most basic: The watch is as much -- in these days when cell phones have clocks more -- jewelry as it is a time piece. Here, HTC is looking to appeal to women -- okay, perhaps teen and tween girls.
Again, increasing technology's appeal as accessories is nothing new. For example, in 1927, Kodak commissioned Walter Dorwin Teague to design cameras. Kodak wanted to increase its cameras' appeal to women. Teague presented the Vest Pocket line in five distinct colors. The cameras were petite, trendy and attractive.
Many manufacturers have since imitated the use of color to make tech gear more fashionable and more appealing to women. Apple is one of the most notable recent color copycats for the translucent iMac in the late 1990s and iPod nano in this century.
Plum is a color successfully used by Nokia. Years, ago I owned a Plum-colored Nokia N95. In fact, comparing the Nokia N8, which is available in five colors, to the HTC Rhyme reveals two handsets seemingly separated at birth -- at least from front view,
What perhaps does distinguish Rhyme from most other fashion phones is the approach to matching accessories and creating a lifestyle around them. "HTC Rhyme is focused on delivering this through a fresh new style and experience that includes a family of innovative accessories like the HTC Rhyme Charm and Docking Station that are meant to naturally integrate into people's lives", Croyle says.
But, again, Nokia has been there before. Watch this promotional video of the N79 for a glimpse. My daughter once owned that cell phone and multicolored backs she could swap to match her mood. Nokia sought to create a mobile/digital lifestyle around the N79, which based on form, size and accessories also clearly targeted women.
As you can see from the photo up top, Rhyme accessories match in style and color. Some are quite clever, like the aforementioned Charm. It might be the ultimate sound-silencer for any smartphone. I rarely quote press releases, but HTC's Charm description is succinct and revealing about target market: "The Charm is a small light-emitting cube that attaches to the phone by a cord that can dangle from your bag and also be used to quickly pull the phone out of your bag. It also makes it easy to find your phone buried in your cluttered purse or backpack".
Cell phones are the most personal tech products we use. People carry them everywhere, and use them for maintaining personal relationships. Mobiles are constantly personalized and so coveted that some people ask to be buried with them, as BBC reported in March 2006 -- yeah before the smartphone revolution. You can bury grandma with her mobile, but if she calls from the afterlife, don't answer it.
Besides Rhyme's form and matching accessories, HTC also provides custom wallpapers and other goodies for making Rhyme more personal. I've got to ask: Would you buy Rhyme?