Kaspersky debuts Endpoint Security 8 for Windows, talks cyber-warfare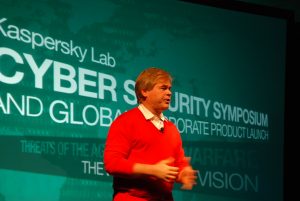 At its Cybersecurity Symposium in New York City on Thursday, Security company Kaspersky Lab debuted the Windows version of its Endpoint Security 8 corporate security suite. The new security product takes a twofold approach to network security: Deep anti-malware protection, and comprehensive management and control systems.
On the anti-malware side, Endpoint 8 integrates with the Kaspersky Security Network, a cloud-based reputation database that is built from data submitted by millions of Kaspersky users so new definitions are acquired quickly without having to update an ever-growing local database. Secondly, it includes application whitelisting for administrators who want to set policies against specific applications, or against entire classes of apps. Third, the "System watcher" function tracks client system behavior for anomalies, and can revert to states before the system was infected. Finally, Endpoint 8 is based on Kaspersky's improved signature-and-pattern-based antivirus engine.
On the management side, Endpoint 8 offers broader management options for virtual machines, including support for VMWare virtual machine management, which gives full management of Kaspersky Lab products on non-persistent virtual machines. It also includes a Web console so networks can be remotely monitored and managed, and an improved reporting system.
All these features were highlighted in one way or another today in Kaspersky's symposium on Thursday which had a general theme of "What's next in cybersecurity?"
The answer to that question is deep, multi-layered, and frankly, pretty grim. Eugene Kaspersky, co-founder of the security company said it could be looked at as the early stages of a global cyber arms race.
"China, South and North Korea, United States, Germany, NATO...they are all assembling Cyber Warfare teams. This is starting to look like a very, very, very bad Hollywood story," Kaspersky said. "A decade ago, there were students and kids coming up with viruses, then it became organized criminal elements. Now it's governments. I ask you...what do you think comes next?"
Kaspersky said the appropriate defenses must extend well beyond just personal protection. "There must be new designs, new innovations in IT and OS development. Systems that are more secure must be used in critical infrastructure," he said.
Kaspersky Endpoint Security 8 for Windows and Kaspersky Security Center are now included in
Kaspersky Open Space Security.