Dolphin HD 7 for Android adds new sync feature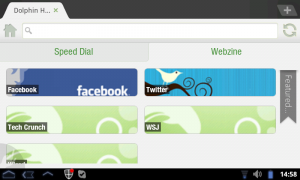 Dolphin HD 7.0 for Android has been released by its developer, Mobotap. Version 7.0 showcases a new browser sync feature called Dolphin Connect along with enhanced Webzine functionality. In a move that may anger some Android users, Dolphin HD 7.0 will exclusively be available only through the GetJar App store until Sunday (October 23).
Initially available only on Android, Dolphin Connect will eventually be rolled out in a future version of Dolphin Browser for iOS, making it possible for Dolphin users to keep bookmarks, passwords and gestures synchronised across both Android and iPhone, iPad and iPod touch devices.
Users who can't wait until October 23 to install the new update will find when they click the download link that they'll be directed to the GetJar App Store. Clicking Download here will result in the user having to first manually download and install the GetJar App itself, which requires that the "Unknown Sources" box be ticked in the Applications section of your Android device's Settings screen.
Once installed, the user then launches the GetJar App and searches for Dolphin HD 7.0. This is then installed over the top of the existing Dolphin HD installation with all existing settings preserved.
When Dolphin HD 7.0 is launched for the first time, the user will be prompted to set up a Dolphin Connect account, allowing passwords, bookmarks and gestures to be synchronized to other devices. If preferred, the user can choose to link this account to their existing Google or Facebook account.
Dolphin HD 7.0 also features enhanced Webzine functionality. Webzines were introduced with version 6.0 of the browser, and allow users to set up subscriptions to free articles from hundreds of websites. In version 7, the Webzine now showcases the 16 most popular channels on the homepage, while its user interface has been tweaked to improve navigation and make the feature easier to use.
Dolphin HD 7.0 is available now as a free download for Android devices running Android 2.0.1 or later. From October 23, the release will be rolled out to the main Android Market as well as other Android app stores.