Sprint iPhone owners want answers why slow data speeds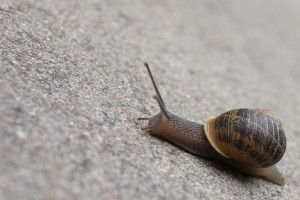 iPhone 4S users on Sprint's network have flooded the carrier's support forums with complaints of slow data speeds, leading some to consider returning the device before Friday to avoid the $350 early termination fee.
Complaints appeared on support forums on October 14, the day the iPhone 4S launched at retail. Tests indicate that in some cases data throughput was as slow as .25Mbps -- only a little faster than a 2400 baud modem. The issue also seems mostly limited to the 4S itself: other Sprint phones tested side-by-side are unaffected although scattered reports of bandwidth issues are appearing elsewhere.
Frustration over the problem has put some customers at their wit's end. "I had enough and finally brought the phone back today," poster ZachR214 writes on the company's forums. "I was really sad to let go of Sprint....but I'd rather pay a little more to have a reliable carrier, then have a brick."
The story is the same over the rest of the 64-plus page thread on iPhone 4S data woes. Poor data speeds, customer service representatives not giving direct answers to what's exactly going on. That adds up to many frustrated Sprint iPhone owners.
What is causing the issue? It could involve the carrier settings file in the iPhone, which directs the device how to connect with the network. TheNextWeb said on Monday that an internal e-mail calls the issue "nationwide," and that Sprint and Apple were working together to remedy the issue.
No timeframe for repair or direct explanation is offered for the issue, although the e-mail apparently makes reference to some type of 'service settings update.' This likely means that the fix will require a tweaking of that aforementioned carrier settings file.
Sprint said it was watching the reports of data issues, however did not specifically comment on them. "Overall, iPhone performance on the Sprint network is consistent with our expectations and the rest of our high-end portfolio," it says.
"We do see opportunities to optimize performance, specifically in high network capacity areas. We see this as typical optimization work and do not have any specific area of concern. Sprint is committed to providing the best possible experience for our customers."
The issues follow a move by the company last week to end unlimited data for all data offerings except the phones themselves. Beginning with the next billing cycle, mobile broadband users will lose unlimited 4G data. These changes will also affect those who use their smart devices as mobile hotspots, the company says.
While it is not directly stated, these changes could have to do with the expected strain on the network as a result of the launch of the iPhone. Within only a few hours of the iPhone's launch on the carrier, it had already begun setting records for one-day device sales.
Photo Credit: Joe Wilcox