Trillian 5.1.0.15 launches with Skype support, new lifetime 'Pro' license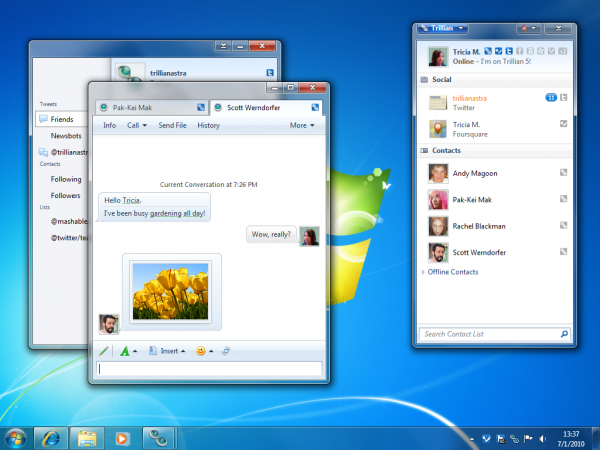 Cerulean Studios has updated its Windows cross-network IM chat tool, Trillian for Windows, to version 5.1. The major new addition to this multi-platform social-networking tool is support for Skype, which joins other notable networks such as Facebook, Windows Live Messenger and Twitter in being supported.
Trillian provides a one-stop shop to all your major chat accounts as well as social-networking sites. Skype support extends to chatting and voice calls only; video chats aren't (yet) supported.
Support for Skype was made possible with the new SkypeKit for Desktop tool, which allows third-party products to be "plugged into" Skype. So long as the desktop client is installed in Windows, you can then access your Skype account without having to launch Skype itself, meaning you can use Skype in Trillian itself alongside all other networks and chat accounts you've set up.
The addition of Skype support brings the number of instant messaging services that Trillian works with up to 11 – the other ten include Windows Live Messenger, ICQ, Google Talk, AOL, Yahoo! Messenger, IRC and Bonjour. The program can also be used to provide a single entry point to Twitter, Facebook, LinkedIn, FourSquare and MySpace IM, plus supports the import of email accounts for notifying the user when new messages have arrived.
Version 5.1.0.15 is also launched on the day when Cerulean has announced a new lifetime Trillian Pro license. A Pro license, which allows the user to store chat conversations in the cloud for instant retrieval from any device, has traditionally come as a monthly or annual subscription – now a single lifetime license is available from the Trillian Store (login required) for $60, compared to $12 for an annual sub. A subscription also ensures ad-free service across all devices and computers.
Trillian for Windows 5.1 is available now as a free download for Windows PCs. Trillian is also available for Mac, iOS, Android and Blackberry.