What's coming in Firefox 9, 10 or 11? Little to get excited about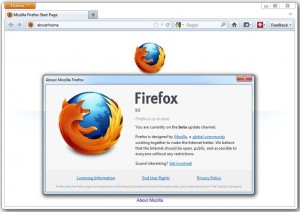 The Firefox development merry-go-round has moved on again, withFirefox 9 Beta and Firefox 10 Aurora builds being joined by two separate versions of Firefox 11: Firefox 11 Nightly and Firefox 11 UX, the most intriguing build of all.
Those looking for major new features or a revamped interface will be disappointed, as the emphasis in Beta and Aurora builds is very much one of performance improvements and stability fixes. With this in mind, which version should you install? Read on for our updated guide to what's happening with each version of Firefox.
This is the latest stable release of Firefox, and as such is recommended for most users, particularly with a noticeable lack of new features coming in later versions. After Firefox 7 plugged some annoying memory leaks, Firefox 8 adds some interesting new features; downloads are now integrated into the History window, for example, while an option for speeding up startup by only loading the currently selected tab when Firefox first loads has made its way into the General tab of the program's Options box.
Firefox 8 also tightens up add-ons, providing a compatibility assistant that allows the user to disable unwanted third-party add-ons the first time the program is updated to a new version, while also blocking third-party programs from installing add-ons silently.
The only change of note in Firefox 9 is the implementation of a technology called "type inference". This basically allows Firefox's Javascript engine to process Javascript code much more quickly than before, leading to noticeable performance improvements when loading pages or apps that contain Javascript.
Firefox 9 Beta will install over the top of any existing stable release, so while it's undergone a lot of testing to this point, is still not stable enough to be considered safe for less experienced users, although it's likely to be robust enough for most day-to-day browsing needs. If installing the beta, take a backup using a tool like MozBackup before you begin.
Aurora is an "alpha" build of Firefox, which means it's undergone minimum testing only. As such it's not suitable for everyday use, which is why Firefox Aurora is installed as a separate build alongside the stable or beta build, allowing you to test its features without affecting your day-to-day browsing. Settings are shared between Firefox Aurora and your other build, however, so again caution should be exercised before installing it.
A number of major features that were assigned to Firefox 10 appear to have fallen by the wayside and will presumably appear in the next Aurora build, or find themselves bumped back to version 11. These include improved streamlining of the Location Bar -- at present, the only noticeable change to have appeared in Aurora is the dropping of the Forward button. Also at risk are options for importing data from Chrome, a redesigned New Tab page and a tweak that will set all add-ons' default status to compatible when a new build of Firefox is released.
Other changes that have landed in Aurora will mainly interest developers, including a new Inspector tool (accessible from the Web Developers menu) -- selecting this allows users to highlight specific parts of a page to reveal the code underpinning them. Coupled with a new code editor, it's designed to allow web developers to both build and test pages within Firefox itself.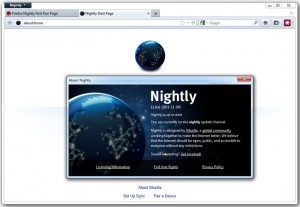 Firefox 11.0a1 Nightly
Firefox's Nightly channel gives users access to code hot off the press, but while you're looking at the latest bleeding-edge version of Firefox, you're also venturing into uncharted waters because much of this new code has had no testing at all. Nightly builds update regularly, so once installed you'll find your build updating on a much more frequent basis than other unstable releases.
At the time of writing, Firefox Nightly exhibits no new features above and beyond that of Aurora -- for a glimpse into what is likely to appear in Nightly builds over the next six weeks take a look at the Features/Release Tracking page of the Mozilla Wiki.
Nightly is also available as a 64-bit build for compatible versions of Windows and Linux.
We'd recommend all but developers and serious, knowledgeable enthusiasts avoid the Nightly builds of Firefox.
Introduced in our last update, Firefox UX provides a parallel Nightly build of the browser that concentrates on developing a new interface for Firefox. Sadly, the likelihood of features previewed here appearing inFirefox 10 has all but disappeared, but if you want a glimpse into what Mozilla hopes will revamp Firefox's look and feel in 2012, take a look at Firefox UX (like Nightly, also available as a dedicated 64-bit build).
When we first previewed Firefox UX, it exhibited a streamlined Launcher Bar, with both forward and home buttons removed by default; only the forward button has been removed in the latest Aurora build. Also visible was a clickable button on the Search bar, a Download Manager widget that's integrated into the main Firefox window, and a New Tab page that showcases recently visited sites as well as the user's bookmarks.
Not much has changed since the last version -- a quick visit to Mozilla's presentation of desired interface changes reveals that some major changes are still at the wish list stage. One thing we have noticed, however, is that the History window is incorporated into its own tab in Firefox UX rather than opening a separate pop-up window as it does in all other builds of Firefox.
In Summary
Which version of Firefox should you try? Stick to the most stable version you feel comfortable with -- if we're honest, there's little in Firefox 9, 10 or 11 for the casual user to get too excited about, although Firefox UX as always provides a tantalising glimpse into how Firefox's user interface will evolve over the next year or so.
If you do decide to give the Nightly or UX builds a try, back up first, or use a non-critical machine or virtual setup (try VirtualBox), just in case…