Chat everywhere with Palringo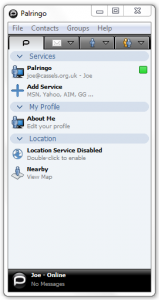 Palringo is a cross-platform chat client that supports all the major networks plus its own group chat rooms. Whether you use Windows, Mac or most popular smartphones, Palringo has a client for you.
Sadly Blackberry owners are going to be disappointed because the Palringo client for their phone has been discontinued, but there are free versions of the application for Android, iOS and Symbian. You can also use it on your desktop be it a Mac or a Windows PC and you can even run it in Linux under WINE.
Before you can add one of the instant messaging services, you need to sign up for a Palringo account. You can do this right after you install the application. Once you've set up a new account, you can check into any existing groups on the Palringo network that you like. You can create a new group or sign into another local one near your current location. Palringo uses smartphone location services to help you interact with nearby users.
To add an instant messaging service, click Add Service from the menu and then supply your username and password for the selected service. You can use AOL, Google chat, Yahoo, MSN, Facebook or one of many other chat or networking services. You can sign into multiple networks or use them one by one. To sign out of everywhere, simply sign out of Palringo.
Groups enable you to share status updates with multiple people. You can create your own group with different friends and family members or you can connect to an existing group. These work in a similar way to chat rooms, where you can message with every member at the same time without worrying about addressing messages individually.
Palringo is available as a freeware download for Windows and Mac, while Linux users can install the Windows version through WINE. Palringo Mobile is a free app download for iOS, Android and Windows Mobile.