CloudOn for iPad mini-review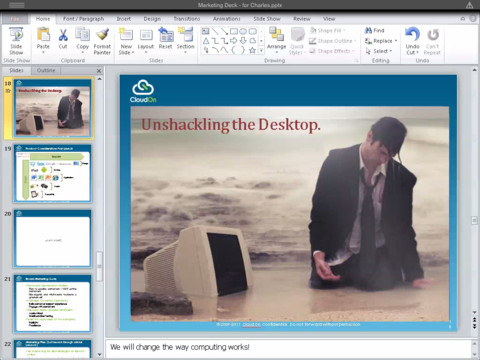 The iPad has been touted as a replacement for the laptop, but if this is to happen a serious office suite is needed to allow everyday tasks such as word processing and number crunching to be carried out. In this area there are a number of mobile office suites to choose from, including Apple's own iWork apps Pages, Keynote and Numbers as well as the likes of Documents To Go, Quickoffice and a few others.
While all of these are capable of producing and working with Microsoft Office compatible files, there is no getting away from the fact that none of them is Microsoft Office. This is something that CloudOn for iPad aims to address, bringing you fully functional versions of Word, Excel and PowerPoint to your tablet.
The problem with many office suites available for iPad is that they started life on the smaller screen of the iPhone. In a bid to maintain a uniform interface across platforms, it is often the case that the iPad version of a suite is virtually identical to the iPhone version both in terms of looks and feature set. CloudOn is a little different, bringing you the desktop versions of the three main Office applications -- thanks to a remotely hosted version of Microsoft's office suite.
CloudOn can be used to create new documents from scratch, or to edit files that you have already created in Office or another productivity suite. Rather than working with a ported version of the suite or a re-write, you are presented with the familiar toolbars and ribbon that are usually found in Office and this provides you with access to the full gamut of features and options. All formatting tools can be used as can graphing, animations, images, transitions and more.  To ensure that you are not missing out on anything -- and do not have to unnecessary navigate through endless menus, and extra row of keyboard is added so that you can use additional keyboard shortcuts and functions.
Mobile Limitations
All of this is encouraging, but there are a few issues with CloudOn. The app's reliance on Dropbox is something of a double-edged sword. While allowing yout to save your files to your cloud-based account so you can access them from any computer with an Internet connection, it is also slightly restrictive. There is no way to save files locally, and the fact that your files are stored online means that the app is useless on those occasions that you do not have an internet connection. This is likely to be less of a problem for anyone who has a 3G iPad, but if you are working with a WiFi-only model, you are going to be restricted as to where you are able to work.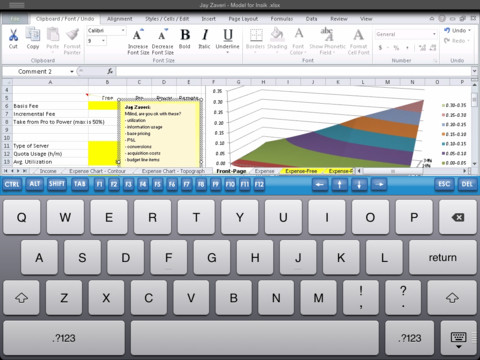 CloudOn is a great way to access the power and functionality of Office, but it quickly becomes apparent that Microsoft's applications have not been designed for use on touchscreen devices. Navigating through some documents, particularly in the case of spreadsheets, can be a little tricky, and anyone who has tried to use the iPad's on-screen keyboard for extended typing sessions will be aware that it is far slower and more fiddly than using a standard keyboard.
One fairly major failing of the app: it can only be used in landscape mode. Once the keyboard is activated and the screen space taken up by toolbars is accounted for, there is very little room left to see your document. It would have been nice to have the option of working in portrait mode, perhaps with the ability to scroll toolbars.
If these complaints make it sound as though CloudOn is an app to avoid, nothing could be further from the truth. In terms of raw power and the range of options available to you, there is simply nothing to rival this particular title. There are a few quirks to work around and a few minor niggles to overcome, but on the whole this is a great office suite that deserves to grace every iPad.
You may well find that this is not the app you turn to for day to day editing of files or even the one you use to create new documents each time, but having the option to use almost every feature of Word, Excel and PowerPoint is one that is hard to turn down.