Yahoo kills 10 mobile apps to focus on HTML5 future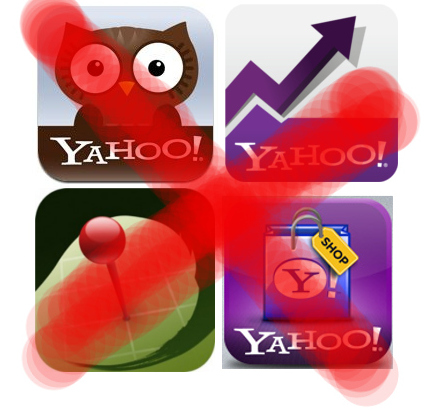 Even though Yahoo remains one of the most popular sites on the Web after nearly seventeen years in the business, the company faces an uncertain future with nebulous branding, improper monetization, and unsteady restructuring efforts.
Yahoo has been attempting to streamline and reorganize in various ways to stay on top, but on Friday it announced it will be ending support for ten of its mobile apps for iPad, iPhone, Android and BlackBerry.
The apps that are retiring are:
Yahoo! Meme (iPad and iPhone)
Yahoo! Mim (iPad)
Yahoo! Answers (Android)
Yahoo! AppSpot (Android and iPhone)
Yahoo! Deals (iPhone)
Yahoo! Finance (BlackBerry)
Yahoo! Movies (Android)
Yahoo! News (Android)
Yahoo! Shopping (iPhone)
Yahoo! Sketch-a-Search (iPad and iPhone)
These applications have not had the success that some of Yahoo's other mobile applications have had, such as Yahoo! Go, Weather, Finance, Sportacular, and, of course, Flickr. The company says it remains committed to these apps and others that "capitalize on Yahoo's strengths."
"We're moving forward with a 'mobile first' mindset," the Yahoo Mobile team blog said on Friday. "You can expect to see more new Yahoo! mobile products in 2012...such as companion experiences for TV like IntoNow, new ways to experience personalized media like Livestand...and we'll be building these experiences with disruptive technology that's going to change the mobile game well beyond Yahoo!"
The disruptive technology Yahoo is talking about here is HTML5 and its related "open Web technologies," which the company is hoping to use to make its content more broadly available and interoperable.