Ashampoo WinOptimizer 9 Beta is ready for Windows 8

Ashampoo has released a beta version of the forthcoming Ashampoo WinOptimizer 9. The all-in-one maintenance and performance tool for Windows PCs will include two brand new components and promises improved performance over its predecessor thanks to tweaked algorithms that will scan quicker and more thoroughly to identify more areas for improvement.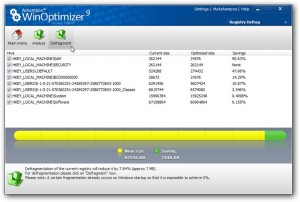 Version 9 also boasts a redesigned user interface and promises to be compatible with the forthcoming Windows 8, due for release later this year.
WinOptimizer 9 has added two new tools to its roster. The first is a Registry Defrag tool to go alongside its Registry cleaning component. This tool scans the Registry for empty space left behind by deleted Registry entries, then compacts and defrags the Registry hive files to produce a small performance boost.
The second tool is the HDD Inspector, a tool for monitoring the status and health of hard drives attached to the computer.
The major improvements to the program's performance and maintenance tools have been labelled "Optimization 2.0". These include a new updated automatic system analysis function, one-click optimization with brand new overview and summary of results, updated drive cleaner, improved Registry cleaner and updated browser profiles for the Internet cleaner.
Ashampoo WinOptimizer 9 also sports a redesigned user interface, with the emphasis on providing more direct access to the suite's various components. It achieves this by offering different views, including an overview of all available modules, list of categories and precise details for each module selected.
The final update for version 9 is full support for Windows 8, which is due out towards the end of the product's life cycle, ensuring users will be able to migrate Ashampoo WinOptimizer across to their upgraded version of Windows.
Ashampoo WinOptimizer 9 Beta is available now as a free trial download for Windows XP or later. The final version is slated for official release on February 15th, and will retail for $39.99, with upgrades available at $15.99 for exisiting users.