VLC Media Player 2.0 FINAL is different on the Mac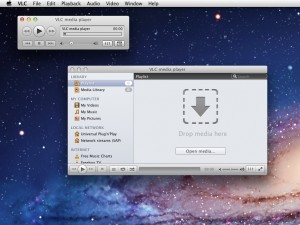 The non-profit VideoLAN Organization has announced the release of VLC 2.0 FINAL. VLC is a popular cross-platform, open-source video player capable of handling most media formats, and version 2.0 represents the first landmark update since its first official release in June 2009.
The most radical changes in VLC 2.0 will be found on the Mac platform, with support for Blu-ray playback being overshadowed by a radical overhaul of the user interface. This major step forward has divided the VLC community since it first emerged, with some decrying the loss of version 1's minimalist approach to video playback.
VLC 2.0 on the Mac platform replaces the simplistic interface of version 1.x in favor of something more akin to iTunes, while also embracing the look of OS X Lion. It opens in Playlist view, with a two-paned window containing a list of common locations for media files in the left-hand pane, and an invitation to drag and drop files into the window for playback on the right.
Media controls sit at the bottom of the window, and there's a new audio effects option next to the full-screen button, which takes advantage of Lion's full-screen support. Options in the left-hand window include a shortcut to the user's iTunes library and a playlist option, as well as UPNP and various internet streams.
VLC 2.0 for Mac also includes experimental Blu-ray support, plus adds support for VLC's lua-based extensions. These support various interactive features, such as pulling movie information and subtitles from the Internet, or posting to Twitter.
Version 2.0 is very much aimed at Mac users, with Linux and Windows users seeing less radical changes, although behind-the-scenes improvements, detailed in full at the VLC changelog, make the update worth pursuing for all platforms.
One major upgrade for Windows users is a dedicated 64-bit build of VLC, while the release notes also hint at future versions for mobile users, with an Android version in development, due to join VLC Media Player for iOS, which currently stands at version 1.1.
VLC 2.0 FINAL is a free, open-source download for Windows, Mac and Linux.