PayPal now accepted in bars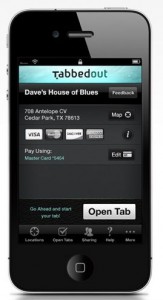 eBay's payment processing subsidiary PayPal is no longer relegated to online purchases and auctions. Mobile payment app Tabbedout on Tuesday announced it now includes PayPal as an option to let users pay their bar tab or restaurant bill if they happen to be in Austin, Texas. And in just three days, a lot of people are going to be happening through Austin for the SXSW Interactive, Film, and Music Festival.
The Tabbedout mobile application is available for free on Android and iOS, and it lets bar and restaurant patrons open, view and pay their tab with their credit card on a smartphone. By doing this, the idea is that servers can more quickly and easily collect payment without actually having to process cards, come back for tips, and so forth. Within the app, the tab is kept, a tip calculator is included, and credit card data is stored locally and password protected. The system, of course, only works if a restaurant or bar has partnered with Tabbedout, and the startup has about 400 partnerships thus far.
With PayPal integration, users can now enter their PayPal username and password to pay right from their phone.
With the copious amount of drinking that takes place at SXSW, Austin should be a pretty strong testing ground for the new functionality this coming weekend.