Got Ice Cream Sandwich? Get Google Maps 6.5 for Android now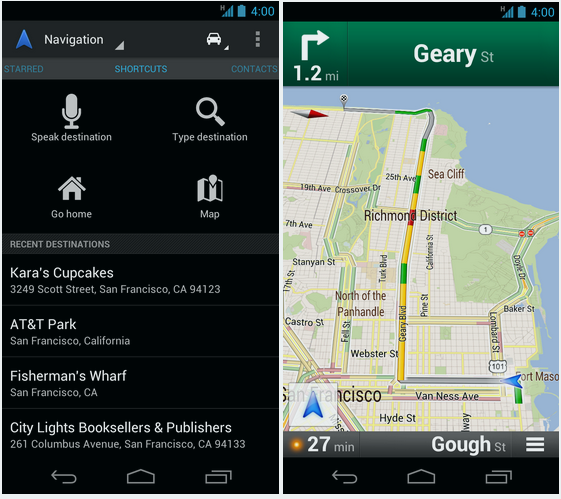 Google isn't waiting for the install base of Android users to move to Ice Cream Sandwich, not that carriers or handset manufacturers help much (if you're waiting for that upgrade from Gingerbread, you know what I mean). Today the search and information giant updated Google Maps for Android to version 6.5, packing in capabilities specific to version 4.x. Don't you feel cheated? I would.
Google offers the best to a minority of users, and small is too big a word to describe them. According to Google's official stats, as of March 5, Ice Cream Sandwich accounts for a mere 1.6 percent of Android devices. But, hey, many of these users are the bleeding edge of influencers Google should want to reach -- and keep enthusiastic.
The big changes are to Navigation, which is a beta feature. Harlan Hile, Google software engineer, boasts: "So far, Navigation on Google Maps for Android has provided 50 billion kilometers of turn-by-turn directions, the equivalent of 130,000 trips to the moon, 334 trips to the sun, 10 trips to Neptune or 0.005 light years!"
The new version sports a redesigned screen on Android 4.x devices, which Hile says makes it "easier to enter a new destination or select from recent and favorite locations by swiping left or right". Additionally:
If your device has a high pixel density screen, such as those on Galaxy Nexus, Galaxy S II, Droid Razr and others, you'll now get higher resolution map tiles that take better advantage of the pixels-per-inch on your screen. The result is a crisper, less cluttered map that is easier to read.
Changes may not be immediately apparent. "You'll start seeing the new style as you navigate around new areas on the map; however, you can see these changes immediately by clearing your cache from the Maps settings", Hile advises.
The early reviews are generally positive. User Elderon gives the app five stars: "This is probably the most important Android app on my phone. aside from the fact that I like Google the company, maps with GPS navigation was and is the biggest selling point for me. It works great for me (I can't find a way out of a paper bag lol). Wish maybe there were more addons in the lab option section. Anyways works great and is free, can't beat that". Elderon has Galaxy Nexus, which ships with Ice Cream Sandwich.
Keith says: "Brilliant and invaluable on Nexus S running ICS, but absolute disaster on Acer A500 running Honeycomb 3.2.1 -- crashes 9 times out of 10 within seconds of launch (other apps work just fine) So 3 stars for inconsistent performance, hope for improvement when ICS rolled out to tablet".
"The best app on android that isn't on iOS", says Jon, another Galaxy Nexus user.
Google Maps for Android (with Navigation beta) is available now. The app will install the appropriate version for your device. It's v6.5 for Ice Cream Sandwich.