Review: Nokia Lumia 900 unquestionably raises Windows Phone to a higher level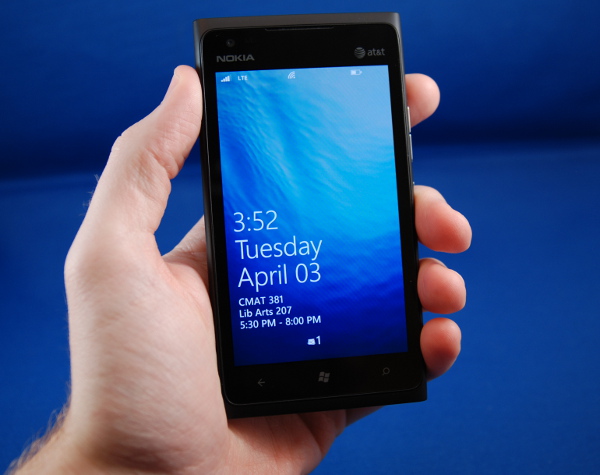 This could be the easiest review I've ever written: The Nokia Lumia 900 is absolutely top-notch hardware at an affordable price, and it has everything it takes to be a giant success.
Last week, we established that 60% of BetaNews readers want this phone, and you know what? After one week with this device, I can conclusively say that our readers' desire to own the Lumia 900 is completely warranted.
Here are my four main reasons: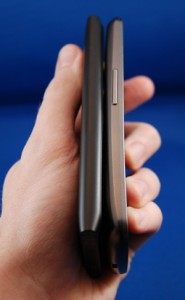 It is rock solid- The Gorilla Glass front, and the one-piece chassis of the Lumia 900 may result in a slight increase in weight and thickness as you can see in the photograph to the left, but the tradeoff is a body that feels like it can take a ton of abuse. For a $99 mass market device, this is an amazing feat. As an Android user, I have dealt with a large number of devices with cheap-feeling chassis. Often this is done by manufacturers to save money, other times it's to shave down the overall weight of their device. It is clear that this device is not kidding around. Part of me wanted to take it to the firing range and see how it could stand up to a rifle round.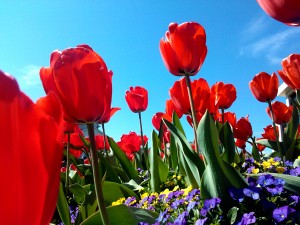 The still camera is something special-- Check out the pictures I took with the Lumia 900, and bear in mind that I am the world's worst photographer. Seriously, I make everything look terrible. The proof is all over BetaNews. Look at an article with a bad picture, and the chances are good that I took it. But the Lumia 900's 8-megapixel camera with Carl Zeiss optics and dual-LED flash somehow manages to make my zero-skill photos look sharp and vivid. Its 720p video capture didn't knock my socks off as much as the still camera, but it does a decent job in adequate light, and lets you record with the dual LED lamp turned on in situations where light may be less than ideal.
It actually works as a phone!-- Though the role of the good old voice phonecall is gradually diminishing, the Lumia 900 is capable of nice, clear voice calls. Though the earpiece is mounted on the front of the phone, it is aimed slightly upward, so you will have to hold the phone a little lower than you might be used to (depending, of course, upon what device you're currently using.)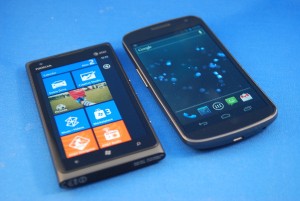 Windows Phone is smooth and responsive-- Here is where we encounter the Lumia's contentious bone. Maybe you don't like the Windows Phone interface, maybe you do. I can certainly agree with complaints that the Metro UI has received, at least in terms of utilization of screen real estate, customization, and overall aesthetic. However, it runs smoothly and is instantly responsive to touch, it is easily navigable, and there isn't the action lag you sometimes get with cheaper smartphones. I do find myself wishing that this phone came with an Android option, but that's just my personal bias. For the mainstream consumer and first-time smartphone user, the Windows Phone experience is going to impress on this device...it just needs a few more amazing platform-defining applications to mitigate user complaint. One has to wonder how differently Windows Phone would be perceived today if it had launched with a device like the Lumia 900 back in 2010 instead of 10 forgettable, selfsame HTC, Samsung, and LG smartphones (Dell Venue Pro notwithstanding.)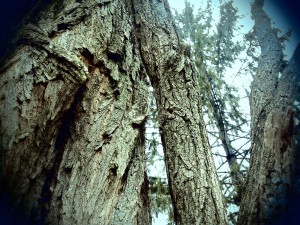 Conclusion: I feel I must reiterate that this is NOT AN UPMARKET DEVICE! By pricing the Lumia 900 at just $99, Nokia is targeting the mass market consumer. Yet with a solid body, solid camera, nice screen, and 4G connectivity, the hardware value is unquestionably through the roof. The mass market is getting an impressively well-rounded device. Whether or not the software backs up that value is up to the individual user and what he needs his phone and related Web services to do. For me, those qualities pass too, despite my love for the little green robot.