You will buy Nokia Lumia 900 Windows Phone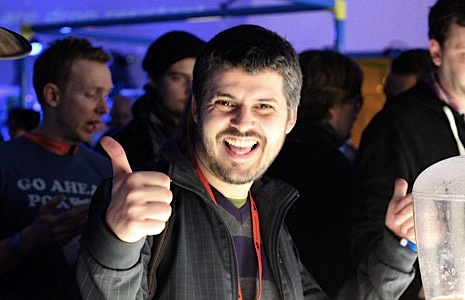 March 30 is finally here. Can you believe it took so long to arrive? Today, AT&T is taking preorders for the tasty Nokia Lumia 900. Yes, tasty. What? You think only Google's Ice Cream Sandwich is sweet? Not so. Windows Phone 7.5 "Mango" Commercial Release 2 is, too. It's yours on a swanky Nokia smartphone pimped with Carl Zeiss lens for the 8-megapixel camera and pumped with speedy LTE for data. For 99 bucks, AT&T practically gives away Lumia 900.
Many of you think so, too. Earlier in the week I asked: "Will you buy Nokia Lumia 900 Windows Phone for $99?" The overwhelming majority of respondents will -- nearly three out of four. The Finnish phone maker bet the company on Microsoft's mobile OS and brings this handset to a large, overlooked market. Nokia's US presence is mighty invisible outside T-Mobile. If Lumia 900 and its companions fail, so may Nokia.
Before giving the poll results, I owe you an apology. Typically, the greatest number of respondents come during the initial burst of reads. I made a last-minute change to the poll's appearance right before posting, then ran off to help my 90 year-old father-in-law with something. When I returned and checked the story, the poll wasn't there. After editing and re-saving, the poll appeared but missed the early burst of pageviews. Still, there are 1,296 responses as I write, which is more than I expected considering.
Among them, 29.94 percent will preorder, while 30.17 percent will do so within three months. That's more than 60 percent of you planning on buying Lumia 900 between today and early July. That's a simply stunning number.
What's interesting: How this poll compares to another, because I asked the same question before -- after Microsoft Store started taking preorders but before AT&T announced pricing. For that poll, 25.22 percent of respondents preordered or planned to, while 42.09 percent would do so within three months. That works out to 67.31 percent buying within three months, when including preorders, compared to 60.11 percent for the newer poll. Is that difference a problem?
No. The older poll's sample size is more than twice as large -- 3,041 as I write. The number of respondents choosing "Yes, within 3 months of release" for the first poll (1,280) is nearly as large as the total number for the second. Still, the number answering "No" is considerably higher for the second -- 26.16 percent compared to 18.18 percent. That's where the difference lies. The responses for "within 6 months" and "more than 6 months" are statistically the same. Assuming the polls are indicative of anything, fewer respondents plan on buying Lumia 900 now than nearly two months ago.
What You Say
Many reader comments show tremendous enthusiasm for Nokia's flagship Windows Phone, but lots of debate about the operating system's future and also the handset maker's.
Commenter weetigo "preordered the Lumia 900". Avatar Roku is "leaving Sprint, getting the blue cyan version of the Nokia Lumia 900".
Reader Joe (it's not me!): "Better industrial design than Apple, much more durable and also a better UI/UX; $99 means it will be free or near free on AmazonWireless soon. Fing awesome!"
Several of you see AT&T distribution as reason not to buy Lumia 900. "I think more people would have bought if AT&T were not involved", Matt Reid comments. "If the Nokia 900 can be sold for so little maybe they should have hit the prepaid market hard. I'd run to get this phone at anyone other than AT&T". Still, "I will be dumping my Epic 4G for the Lumia 900". Anthony Clark: "I would, but not on AT&T. Bring it over to Verizon and we can talk".
Gary Prusso won't buy on April 8. "I'm going for white, which will be offered on April 22nd".
"Considering the crap that phone manufacturers and service providers put on Android, and the crap that Apple puts their user through, I'll consider giving WP7 a fair shake", Daniel Ahn writes.
"Nokia is on its way down just as PalmOS and RIM and the dodo", ilev comments. "Lumia is a dog of a phone and will not succeed. Finnish resellers channels are steering customers away from Lumia".
AS147 answers: "Yes, Nokia is losing market share but that doesn't mean the game is over. Symbian is their major product and they are moving to something else so it will obviously lose market share for a while, give it time now that a new approach has been adopted".
Reader Car Audio-Outlet also answers ilev: "Wrong. Actually sales are increasing and Nokia already have over 80 percent of the Windows Phone market. The newer Nokia handsets will obviously only improve this. I have not seen a single review that doesn't highly rate the Lumia platform -- you are living in your own microcosm".
My colleague Tim Conneally will review Lumia 900 for BetaNews. I told him yesterday in group chat that, given my recent lambasting posts about Nokia's CEO, the only phone I could get would be with exploding battery and love note from Stephen Elop.
Since I don't expect to receive a review unit, and am not contractually eligible for $99 price, my request is reviews from you. Please contact me, joe at betanews dot com, to submit your Lumia 900 review. We love our readers and opportunity to promote them. Why write a long comment that might be lost on the InterWebs, when it could be a review instead?
I've embedded the Lumia buying poll above, so we can collect more responses, particularly on this first day of real preorders.
Photo Credit: Nokia