Comodo updates PC and cloud storage apps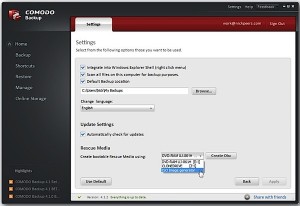 Comodo Group has released new versions of its backup tools for Windows users. COMODO Backup 4.1.2 introduces a number of new features, including an automatic option for creating WinPE-based rescue discs, while Comodo Cloud 2.1.6 is a maintenance release offering a number of minor bug fixes.
COMODO Backup 4.1.2 allows users to back up selected files and entire drive images to just about any location, including external drives, optical discs, network, FTP and, of course, Comodo's own cloud-storage servers, with 5GB of online storage provided free of charge. Comodo Cloud 2.1.6 is Comodo's standlone client for exclusively connecting to your Comodo cloud-based backup space via Windows -- a mobile app is also available for iOS and Android users.
The headline feature in COMODO Backup 4.1.2 is a new option for creating a WinPE-based rescue disc (or ISO image) automatically via the program's Settings menu. From here the user can select a compatible drive or opt to create an ISO file, then set the process in motion with a single click.
Other changes are minor: network shares have been added as a supported backup source, while all mounted backups (including CCloud drives) are now seen as removable rather than fixed drives in Windows, allowing users to eject them from within the OS itself.
Custom profiles can now be scheduled, and both shortcuts and profiles are now found on their own dedicated tab -- users will find the last backup is now set as a defined profile under the Shortcuts tab. Switching to the Backup tab will now automatically launch a new backup process allowing the user to immediately start setting up the what, how, where and when of a backup.
The user can now opt to exclude both system and hidden files from backups, and choose not to restore NTFS security attributes when restoring data -- a useful option when restoring user data to a new Windows installation or computer.
Version 4.1.2 also includes a large number of bug fixes and improvements, all listed at this forum post.
Comodo Cloud 2.1.6, which is automatically installed with COMODO Backup, is by contrast is a minor maintenance release, with a handful of issues -- including one that allows both COSService and SyncService processes to monitor the other and attempt an automatically restart in the event of an unexpected crash -- fixed for this minor release.
Both COMODO Backup 4.1.2 and Comodo Cloud 2.1.6 are freeware downloads for PCs running Windows XP or later. Also available for mobile users is Comodo Cloud for iOS and Android. Online backup requires a Comodo Cloud account -- 5GB is provided free, or the user can upgrade within either app to a 250GB account for $9.99 a month, or $99.99 per year.