So long Read It Later, Hello Pocket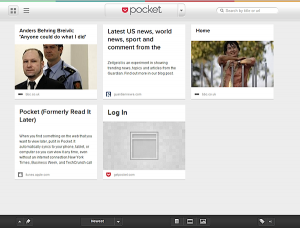 Do you find that you never have time to read the articles you discover online? In the past you may have turned to Read It Later to bookmark a site so that you can refer back to it later, but now there is a new analogy to work with. Read It Later has been re-launched as Pocket, so you can now 'pocket' those stories you don't have time to read right now and save them to your online account ready for when you have more spare time.
The rebranding is more than just a change of name; there are also new features that you can take advantage of as well as a redesigned interface. Whether you are surfing the web in your preferred browser, or you discover an interesting link on Twitter or Facebook, Pocket enables you to quickly and effectively bookmark pages, images and videos so you can easily access them later. Content can be saved using a browser extension or using the dedicated iOS or Android apps.
Whichever method you use to save, your content is synched to your account so it can be accessed from any device with an Internet connection. Spend a little while working with the service and you'll no doubt find that you very quickly build up a pretty extensive list of articles you have saved. To make it easier to root through them, you have the option of filtering content by type as well as using the search tool to home in on a particular article based on title or URL.
The redesigned interface has something of a familiar feel to it as it boasts a Metro-inspired tile based look. This is all very neat and distraction-free, and when you clip any article for reading later you can view just the content of the article itself without the unnecessary page furniture of the web site it came from. With support for a massive range of apps as well as various browser extensions, Pocket has improved upon the already impressive options available in Read It Later.
You can find out more and download a free copy of the app for iOS and Android by paying a visit to the Pocket review page. There are also browser extensions available for Chrome and Firefox.