Quickoffice, Android's best office suite, adds powerful new features in version 5.5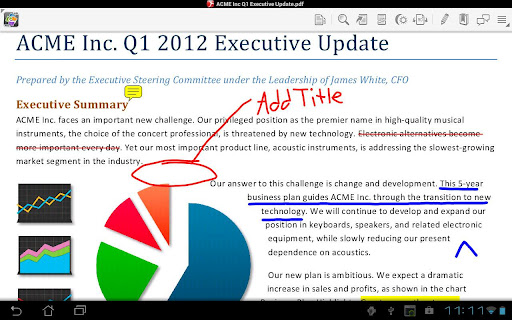 Quickoffice Inc. on Thursday evening pushed out a major feature update to its popular Android productivity application family which adds a host of new capabilities to its Word, Excel, and Powerpoint document editors, and adds the new ability to annotate and edit PDF files.
The new PDF editing feature tops the list of new additions in Quickoffice 5.5, as it allows users to write directly on PDF files, highlight text, insert shapes, and add and remove comments.
In Quickword, spell check in English, French, Italian, German and Spanish has finally been added, the font selection has been extended, and the ability to edit line spacing has been added. For Android tablet users who also use a keyboard, such as the Asus Transformer, keyboard shortcuts have been added (cut/copy/paste/undo/save.)
In Quicksheet, the table functionality toolbar has been enhanced and now lets users insert and delete tables, resize, add, delete rows and columns, merge cells or resize a table. Users can also display charts in Word 2007 format, choose from 24 predefined table styles, create a table with one click and use a simple drag gesture with a live in-document preview.
In Quickpoint, more shapes have been added, bulleted and numbered lists are more easy to insert, and the ability to change images, rotate shapes and duplicate slides for 2007 files has been added.
Quickoffice Pro and Quickoffice HD Pro 5.5 for Android smartphones and tablets can be downloaded today in Google Play.