Leap promises a pocketable, compact 3D user interface



San Francisco startup Leap Motion today unveiled its killer product, a small USB-attached three dimensional sensor (a la Microsoft's Kinect) which is meant for use in small spaces on small screens. The product is called Leap and is available in limited quantities for just $70.
Leap creates an eight cubic foot interaction space, and Leap Motion says the tiny device is "200 times more sensitive than existing touch-free products and technologies." This is appealing because the current motion control interface of choice, Microsoft's Kinect, is a "living room" experiences which requires users to stand anywhere from six to eight feet away from the sensor. Leap can sit right on your desk and utilize only the space in front of you and around your PC if you so choose. This is one of the next big frontiers in interface design, as Belgium's Softkinetic announced a similar innovation at CES earlier this year, and notebook PC makers are looking to integrate similar features with stereoscopic webcams.
The peripheral is designed to be used on Windows 7 machines, and lets the user click, grab, scroll and use "touchscreen" gestures like swipe and pinch to zoom in 3D space. Leap can also determine when the user's hand is holding an item like a pencil or pen, and can change the input accordingly.
The team says it will be ready to support Mac OS, Windows 8, and Linux machines in the near future, but does not have a release date yet for even the first batch of devices. We're all pretty excited about the possibilities here, but we haven't gotten to see the device first-hand, and all the imagery is mocked up. We're trying to find out if this is worth getting worked up over.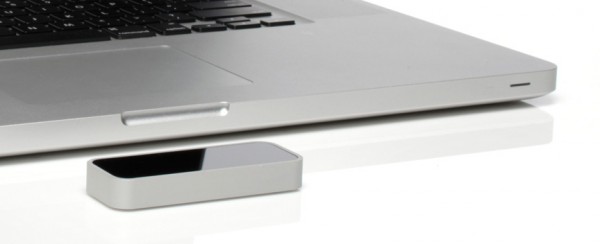 Currently, Leap's launch goal is Winter 2012, but developers will be able to get their hands on one of "thousands" of free developer kits in the next one to three months by applying to participate in the developer program.