Instapaper finally lets Android users save sites for offline viewing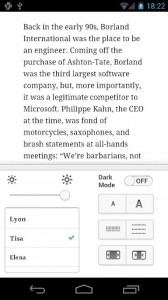 Instapaper, the popular iOS application that lets users save web pages for offline reading, was released for Android on Monday, and can now be downloaded in Google Play.
Instapaper's creator Marco Arment released the app exclusively for iOS, and showed a public preference for the platform, hence earning him the label of "Apple Fanboy" from much of the platform-partisan Web. But due to the undeniable success of Android tablets such as Amazon's Kindle Fire and Barnes and Noble's Nook, Arment and Android app makers Mobelux have ported Instapaper to Android.
The application lets users save websites as text-only documents which can be reformatted (font, text size, spacing and margins), shared or stored. The web-based portion of Instapaper allows users to store an unlimited amount of articles, but the app is limited to saving 500 articles on a phone or tablet.
Mobelux says the application was built especially for small tablets like the Kindle Fire and Nook Color, and large tablets and smartphones running Android 2.2 (froyo) and up. Interestingly, however, the Instapaper app was not listed in the Amazon Android app store, nor on the Nook App store at the time of Instapaper for Android's launch.