Okay, Americans, Samsung Galaxy S III preorders start this week from major carriers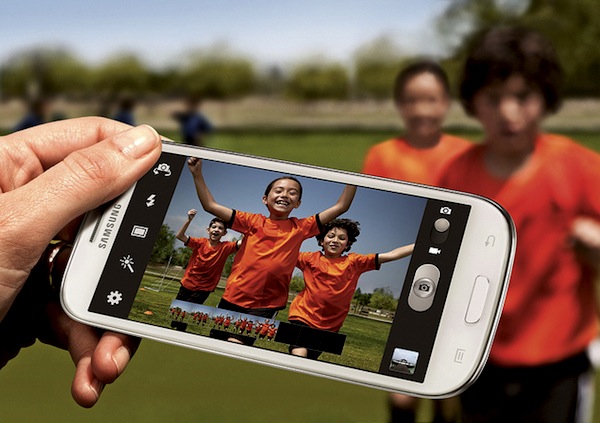 If you're ogling Galaxy S III and thinking "I want", perhaps you should be asking "i what?" Galaxy S III arrives on these shores from all major carriers this month. As for iPhone 4S, well, whatever. Preorders start tomorrow (from Sprint, T-Mobile); June 6 (from Verizon).
But to get lower-cost, subsidized US models, many buyers will gain in network connectivity but lose in raw processing power. US models, also from AT&T, Sprint and US Cellular, are dual-core -- not the quad-core beauts shipping overseas. To get one those babies, unlocked, expect to plunk down at least $650. US, locked, contractual commitment S3s start at $199.99.
Galaxy S III launched in 28 countries on May 29. But the United States is currently the largest smartpnone market, making availability here crucial to sales success, particularly before -- whenever that is -- Apple debuts the next iPhone.
Before continuing, we should look at the specs Samsung announced last month, since they change somewhat from carrier to carrier: 4.8-inch Super AMOLED display (306 ppi) with 1280 x 720 resolution; 1.4GHz quad-core processor; 1GB RAM; 16GB or 32GB storage (64GB in future), expandable with microSD card; HSPA+ 21Mbps (850/900/1900/2100), 4G LTE, GSM/EDGE (850/900/1800/1900); 8-megapixel rear-facing and 1.9MP front-facing cameras; LED flash; zero shutter-lag; 1080p video recording; accelerometer; ambient-light sensor; gyroscope; GPS; proximity sensor; digital compass; NFC, Bluetooth 3.0; WiFi N; 2100 mAh battery; carrier locked; Android 4.0 and TouchWiz "nature" UI. Measurements: 136.6 x 70.6 x 8.6 mm, 133 grams.
T-Mobile doesn't give pricing, but we'll know tomorrow, obviously. The carrier's S3 comes with 1.5GHz Qualcomm Snapdragon S4 Processor (no quad-core for you, baby), doubles HSPA+ speed to 42Mbps and RAM to 2GB. The battery is 2100 mAh. The phone goes on sale June 21.
Sprint preorders, like T-Mobile's, start tomorrow, with same launch date. The link is dead, as I write, but the official one, according to Sprint. The carrier's Galaxy S III has same processor and RAM as T-Mo's but supports LTE, which is in early stages roll out. The 16GB model sells for $199.99 in stores, but the 32GB S3, for $249.99, is web sales only.
"Sprint is the only US carrier to offer this device with the simplicity of unlimited data plans", Fared Adib, vice president, says. "Our customers will appreciate being able to use the robust features and capabilities of this device without worrying about data caps, throttling or silly overage charges". Right, unlimited is easy when your network is way slower than most competitors.
Google Wallet is a more meaningful benefit. Sprint is an early supporter and, like the Nexus S 4G and Galaxy S II, supports the payment system on the S3.
Verizon preorders start at 7 am EDT Wednesday, June 6th. The phone resembles Sprint's -- with same processor, RAM and LTE features -- as well as pricing. However, Verizon won't restrict the $249.99 32GB S3 to the web. Availability is given as coming weeks.
Verizon skipped Galaxy S II -- the only major US carrier to do so -- but won't make the mistake with its successor.
US Cellular starts taking preorders on June 12, but won't launch until July. The carrier is coy about pricing, but $199.99 and $249.99 would be good guesses. It's another 1.5GHz dual-core, 2GB RAM and 4G LTE. Apologies, there's no placeholder preorder page that I could find.
"We're eager to get this iconic smartphone into the hands of our customers so they can experience the 4G LTE network on a powerful device with lots of new, unique and cool features" Edward Perez, US Cellular vice president, says "Whether you are a first-time smartphone buyer or a seasoned user, the Galaxy S III makes it easy to stay connected to the people and information that are important to you".
AT&T is the other carrier carrying Galaxy S III, not that there's any announcement. Well, Samsung let it be known. If I rightly recall, AT&T lunches are typically 1st and 3rd Sundays. To make June, the 17th potentially AT&T's date, if I've got the 1st and 3rd thing right. I would think the carrier would be more worried about getting in front of Verizon's release than any of the other three.
AT&T gave Galaxy S II lots of love, carrying the standard model Skyrocket variant, with LTE. Unlike Verizon, where Droid is big, S2 stood out as flagship Android. Now, the HTC One X and Galaxy S III will stand high among them -- and over iPhone 4S. Let's not forget the "i what?" snark that started this story.
By the specs, software and services, S3 outclasses 4S by pretty much any measure. Last month I asked: "Is iPhone 4S obsolete?" If our buying poll is any measure, 65 percent of the nearly 2,000 respondents answered "Yes". That's how many of you plan to buy Galaxy S III. But now that we know about processor and pricing, it's time to ask again. So I've embedded the same poll.
I'd like to ask something else. For those of you considering purchasing the S3, which would you rather have: Quad-core processor (as opposed to two) or 2GB of RAM (instead of one)? I'll take the memory. And you?
Photo Credit: Samsung