Firefox for Android gets a new UI, Flash support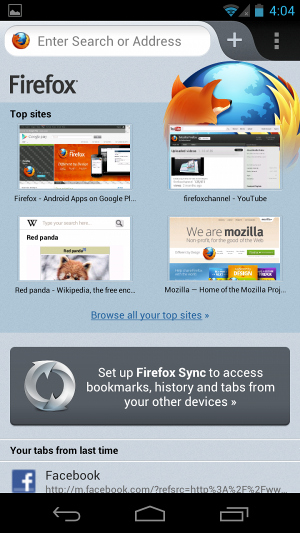 Mozilla on Tuesday announced the latest update (v.14.0) to Firefox for Android is now available in Google Play for devices running Android 2.2 and up. The famous browser, now in its second year on Android, has received a significant feature upgrade this time around, and includes an all new UI and start screen, a sped up experience, and support for Adobe Flash.
Even though Mozilla's mobile Firefox has been in development for more than four years, it is still something of a baby in the Android world. Firefox 4 for Android turned out to be kind of a resource hog, kind of slow, and not entirely stable. The beta of Firefox 5 improved on some of the shortcomings of its predecessor, but clearly needed some work.
However, Mozilla says this new build is "significantly faster" than the stock Android browser on the Sunspider benchmark, as well as others. Mozilla even developed its own new benchmark called Eideticker (lit: person with a photographic memory) to measure performance. The specs and source code for Eideticker can be downloaded here.
The main difference between versions is of course the new look. The new "Awesome Screen" still uses Firefox Sync to bring your desktop browsing history, bookmarks, passwords and form data to your Android device, but the thumbnails of your favorite sites and open tabs refresh in real time on both the home screen and browser tabs. Text has also been reformatted for improved legibility, and panning and zooming has been improved for increased responsiveness and speed.