Android 4.1 Jelly Bean: a dozen or so of the biggest improvements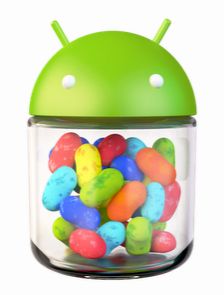 It appears that this round of mobile operating system updates will be incremental for all platforms involved.
Following Apple's announcement of iOS 6, and Microsoft's announcement of Windows Phone 8, Google on Wednesday outlined the upcoming features of Android 4.1 "Jelly Bean," and revealed the update will provide mostly under-the-hood changes that aren't geared toward "wowing" users.
Rolling out to consumers at some point in mid-July, Jelly Bean is available as a developer preview today. Big features of this release include:
--"Project Butter" is a fundamental change to how Android is rendered, run, and displayed. This change includes a couple of impressive features. For example, the entire OS now runs at 60 frames per second, and "CPU Touch Responsiveness" has been added, which ramps up CPU performance whenever the screen is touched.
--Self-correcting homescreen arrangement. Widgets now resize to fit existing space, or app shortcuts automatically re-align themselves around widgets. Previously, resizing was disallowed when widget dimensions did not match screen real estate availability.
--Predictive Keyboard which guesses the next word of your message based upon context.
--Speech recognition and voice typing now has offline mode.
--Support for more input languages including Arabic, Hebrew, Persian, Hindi, and Thai has been added, bi-directional text is now supported.
--Gesture Mode, combining touch and voice, has been improved for visually impaired users.
--Jelly Bean Camera app includes new review mode of previously-taken photos, with a pinch to zoom gesture to pull back out to "filmstrip view," where users can swipe to discard photos, similar to the tab feature in Chrome beta.
--Android Beam now engages interdevice communication with NFC, but hands information transfer over to Bluetooth.
--The stock Android browser has been replaced fully with Google Chrome.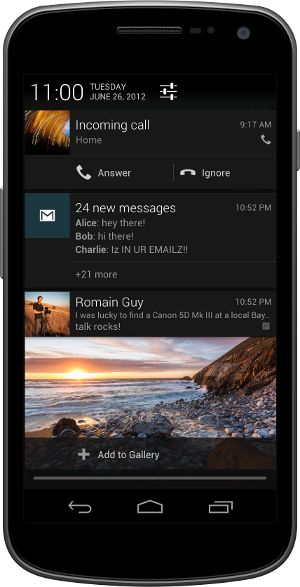 --Improved, actionable notification system, including calling directly from notification menu rather than opening the dialer, Gmail notifications turn into a full view of the inbox, Google Plus information such as posts, +1's, and photos are interactive from within the notification tray. It's actually quite a bit like Microsoft's hub/tile system in Windows Phone.
--Google voice Search has been given a question and answer search method similar to Apple's popular Siri.
--Multicast DNS-based service discovery now lets applications find and connect to services offered by peer devices over Wi-Fi networks.